Gulabi or Pink City is one of India's most popular tourist destinations. Jaipur City attracts tourists not just during the day but also at night with its glittering lights. And the best places to visit Jaipur provide a wide range of activities to please tourists. Here the past is brought to life in majestic forts and palaces where kings and queens once resided.
The enchanting Pink City is largely famous for its forts, evergreen gardens, fairytale palaces, bustling bazaars, rugged fortresses, and wonderful historical hotels.
About Rajasthan's Pink City
Jaipur, the "City of Victory", the capital of Rajasthan, is located amidst the historic Aravalli Hills. Rocky hills with forts surround the Pink city and fortified walls encircle it. Sawai Jai Singh II, who reigned from 1699 to 1743 A.D., was the city's founder. Later on, Maharaja Sawai Jai Singh II selected Jaipur as his capital since most of the city's structures are made of sandstone.
An architect, Vidyadhar, designed the city using the Shilpa Shastra, an ancient Indian architectural book. Jaipur was and continues to be the only city in the world to symbolize the nine divisions of the universe through the city's nine rectangular sectors. Jaipur is a royal city, and this is the most obvious element of it; even tiny structures and the way they celebrate festivals testify to this.
Jaipur's marketplaces are vibrant, with a diverse selection of handicrafts, works of art, Jaipur Blue ceramics, vibrant textiles and clothing, gems and jewelry, and ethnic wear. Lacquer bangles and Meenakari jewelry from Jaipur are world-famous. Ghoomar and Ghorband, two well-known Jaipur dances, show their rural lifestyle.
The Old Jaipur city is called Pink city as its numerous ancient structures are built of pink sandstone. That was because when the Prince of Wales, later Edward VII, visited Jaipur in 1876, Maharaja Man Singh II had the whole city painted pink.
Now, every home in the old city is now legally required to maintain this facade. The narrow lanes of the ancient city are lined with fabulous and towering buildings with latticed windows, their rose-pink tint giving the charm to a picture that is almost mystical at sunset.
Jaipur, the Pink City, offers some of the best places to visit in India. Pink City is famous for its mountain top forts, and beautiful gardens. Its fairytale palaces, vibrant bazaars, and historical and luxurious hotels too amaze tourists.
Furthermore, Jaipur City attracts visitors for its traditional Rajasthani Jewelry, fabrics, and handicrafts. And additionally, the city's Rajasthani cuisine is mouth-watering.
How to Reach Jaipur?
By Air: The Jaipur airport, Jaipur's Sanganer Airport, is 10 km from the city center. Both domestic flights and international flights fly from Pink City. Jaipur connects with major Indian cities like Delhi (254 km), Udaipur (394 km), Mumbai (1,145 km), Kolkata (1,555 km), etc.
By Train: Jaipur Railway Station is beautifully constructed and links to all of India's main cities.
By Road: Road network of Jaipur is excellent. Taxis, and AC and Deluxe buses are available regularly.
Best Time to Visit Jaipur
Summer (March-June): The summer season in Rajasthan is too hot, sweat calling, and unsuitable for travel. Usually, Jaipur's air temperature remains between 24-39 degrees Celsius. But this is the best time to save money, for the best hotel deals and to escape long queues. If you want to enjoy your trip then look towards the monsoon and winter 🙂
NOTE: In case you want to travel during summer, don't forget to pack caps, sunscreen, and lightweight clothes.
Monsoon (July-October): The good time to visit Jaipur is during the green and refreshing season; monsoon. The air temperature will be 23-34 degrees Celsius. Jaipur receives maximum rain during August, so avoid August. Otherwise, the months like September and October are the best.
NOTE: Pack umbrella, raincoat, and necessary things to protect yourself and gadgets from rainwater.
Winter (November-February): The best time to visit Jaipur is during the chill season. The air temperature will be from 8-26 degrees Celsius. And the weather will be soothing, cool, and inviting. Winter being a peak season will call other travelers, so expect a crowd. But undoubtedly, this will be the best time for sightseeing and having fun in the Pink City.
NOTE: The best time to visit Jaipur is from September to November (both monsoon and winter seasons). During this time, you can go Pink City's sightseeing as well as the surroundings will be beautiful and green.
Top 15 Places to Visit in Jaipur
As mentioned above the enchanting Pink City is famous for its mountain top forts, beautiful and peaceful gardens, fairytale palaces, bustling and vibrant bazaars, rugged fortresses, and wonderful historical and luxurious hotels.
The most popular and top places to visit in Jaipur mentioned in this travellingortraveling blog are Patrika Gate, Birla Temple or Laxmi Narayan Temple, Albert Hall Museum, Hawa Mahal, Swargasuli Tower, City Palace, Jantar Mantar, Jal Mahal, Amer Fort and Jaigarh Fort, Nahargarh Fort, Gaitor Ki Chhatriyan, Garh Ganesh Temple, Galta Ji Temple or Monkey Temple, Sisodia Rani Ka Bagh, and Jaipur Market.
#1 Patrika Gate
The Patrika Gate is a gateway to the Jahawar Circle Park, which, is Asia's largest circular park on a traffic circle. It is currently Jaipur's ninth gate, was named after a local news organization called Patrika. In 2016, it was ready for the public to see and remains open 24×7.
A massive ornate pink gate looms over the summits of lush trees on the outside. A fantastic rainbow pathway may be seen on the inside of the gate. A series of magnificent archways greets you as you pass through the gate. Its design reflects Rajasthani culture. It additionally features prominent Jaipur sites, as well as beautiful artwork.
#2 Birla Temple or Laxmi Narayan Temple
The modest privately-owned hilltop fort of Moti Dungri, fashioned like a Scottish castle; the Ganesh Temple at the foot of the hill; and the Lakshmi Narayan Temple, erected from white marble a few years ago by the B.M. Birla foundation, are all major monuments dotting the city's southern horizon.
The temple is covered in white gleaming stones, and the three massive domes reflect three distinct religious perspectives. The temple glows much more at night, displaying its full splendor to the viewers. It includes several stained glass windows depicting scenes from Hindu texts. Lord Ganesh sits above the lintel, and the figures of Lakshmi and Narayan, fashioned of good quality marble, are quite beautiful.
#3 Albert Hall Museum
In the year 1880, after listening to the suggestion of Jaipur's local doctor, Dr. Thomas Holbein Hendley, Maharaja Sawai Madho Singh II created a museum within this hall. Initially, the Albert Hall Museum featured the work of local artists and craftspeople.
With the passing of centuries, the museum's holdings have grown significantly, elevating it to an international level. One of India's six Egyptian Mummies is housed at this museum. The Brugsch Bey of the Museum of Cairo, Egypt gave this mummy to the museum as a keepsake.
#4 Hawa Mahal
Maharaja Sawai Jai Singh II constructed Jaipur's most famous structure, the Hawa Mahal, a multi-layered palace. The mahal is an interplay of red and pink sandstone, delicately and painstakingly etched with white borders and patterns, and is famous for its beehive-like structure.
The palaces and forts of the past, which saw royal processions and splendors, are now living monuments, seamlessly incorporated into the "pink city's" way of life. This five-story structure was constructed to allow women of the royal family to see daily life and processions in the city. In addition, there is a small archaeological museum. Now, it is one of the best places to visit in Jaipur and a must-see tourist attraction.
#5 Swargasuli Tower
Swargasuli Tower or Isar Lat is one of Jaipur's highest structures. It stands 42 meters (140 feet) above ground and it is a victory memorial of 1749. You can climb to the top of this octagonal building for panoramic views of the Pink City, or admire the architecture from below.
#6 City Mahal
City Palace is a vast area that lies in the center of the ancient city. It splits into many courtyards, gardens, and buildings. The palace is a mix of Rajasthani and Mughal styles. And the royal family still resides in a section of Chandra Mahal.
The Chandra Mahal, a seven-story structure with excellent views of the gardens and city, is the focal point. The Diwan-e-Am, or hall of public audiences, and the Diwan-e-Khas, or hall of private hearings are two additional notable portions of the palace. There's also a clock tower and the Mubarak Mahal.
Mubarak Mahal houses the museum with a vast collection of paintings, rugs, enamelware, and antique weaponry. Miniatures from the Rajasthani, Mughal, and Persian styles are among the works. Former maharajas and maharanis of Jaipur's clothing and costumes are also on display in a part of the museum.
#7 Jantar Mantar
Jantar Mantar, the yantralaya of Sawai Jai Singh II, India's last great classical astronomer, is located at the City Palace's entrance. The astronomer king's unique constructions, Yantras, are modernistic structures that help to watch the motions of the sun, moon, planets, and stars.
Its huge brick instruments are extremely precise. And we can measure local time, the sun's declination, azimuth, and altitude, the declination of fixed stars and planets, and the timing of a solar eclipse. In 1716, he founded five observatories, the biggest of which is here. New Delhi, Ujjain, Mathura, and Varanasi are the others.
#8 Jal Mahal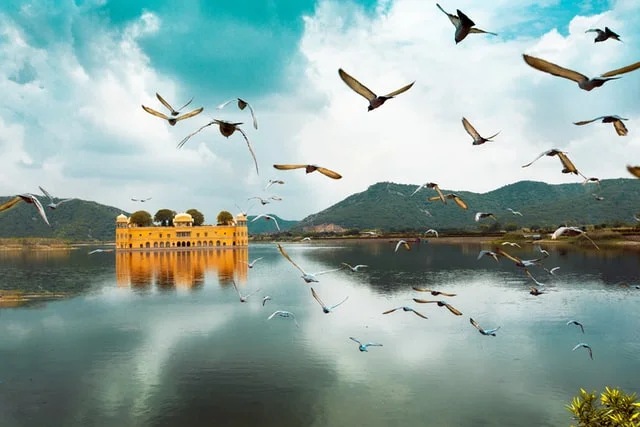 Some of India's most magnificent forts and palaces are from the Rajput era. The Water Palace or Jal Mahal is one of the most popular examples of Rajputana architecture. Sawai Pratap Singh erected this gorgeous mansion in the Man Sagar Lake in 1799 A.D. for royal duck hunting parties.
Jal Mahal is a five-story structure made of red sandstone. The beautiful water of the lake, as well as the picturesque surrounding Aravalli mountain range, provide a magnificent perspective of Jal Mahal. And because of its position, Jal Mahal is home to a variety of colorful migrating birds, many fish species, and diverse flora and fauna.
#9 Amer Fort and Jaigarh Fort
Amer Fort is one of the most beautiful places to visit in Jaipur. It settles on the hills approximately 11 km outside of the city. Fort was constructed over two centuries by Raja Man Singh, Raja Jai Singh, and Sawai Jai Singh. The Amer fort is made up of red sandstone and white marble. It is a superb example of an intriguing mix of Hindu and Muslim architecture.
Jaigarh or the "fort of victory" lies 400 feet above the Amber Fort atop Chilh-ka-Tola (Hill of Eagles). The fort's walls stretch for 3 km. You will immediately sense Rajput romance as you pass through the enormous south-facing Doongar Darwaza. The Awani Darwaza towards the east is the secondary entrance of the fort.
The fort of Jaigarh is a magnificent example of military construction. As soon as you arrive, make a beeline for the massive cannon Jaivan stationed atop a tower. It is the world's biggest cannon on wheels. The 7-story Diya Burj, or tower of lamps, is Jaigarh's highest point. It offers a panoramic view of the whole Pink City.
#10 Nahargarh Fort
The Nahargarh ort sits like a watchful sentry beyond the Jaigarh hills, guarding Sawai Jai Singh's magnificent city. It is floodlit at night and overlooks the city from a steep hill to the north. Much of the ancient architecture is now in ruins. But the 19th-century artistic structures built by Sawai Ram Singh II and Sawai Madho Singh II are still in shape.
To be honest, this is my favorite location in Jaipur and the view from the fort is incomparable and breathtaking (especially during sunrise and sunset). Jaipurites love visiting Nahargarh Fort regularly. In fact, it is also called the most happening place in Jaipur, and believe me, it is!
#11 Gaitor Ki Chhatriyan
Gaitor Ki Chhatriyan lies on the foothills of Nahargarh Fort and is a complex of temples and tombs. Maharaja Sawai Jai Singh (founder of Jaipur) chose this place for cremating the members of the royal family. In short, this is where all of Jaipur's emperors' cenotaphs are present. Except for Sawai Ishwari Singh, his crematorium is outside the Jai Niwas Garden.
The most magnificent is Maharajah Jai Singh II's white marble cenotaph. The peacock sculptures adorn this cenotaph. In the Maharani-ki-Chhatri complex near the Ramgarh road crossing, there are tributes to the queens.
#12 Garh Ganesh Temple
The Garh Ganesh Temple, at the Aravalli Hills' highest point, is one of several popular religious sites in Jaipur. The temple devotes to Lord Ganesha. Ganesha lives in the shape of a little kid known as Purushakriti (infant form and lacks a trunk) at this temple. The shrine also houses the statues of Riddhi Siddhi and their two children, Subh and Labh. Inside the temple, the chanting of mantras and the scent of incense create a very calm environment.
On the first Wednesday after Diwali, a festival – Anna-Koot is celebrated, special rites take place in the temple grounds. The Paush Bade, which takes place on the final Wednesday of the Paush month (January – February), is another event hosted here.
#13 Sisodia Rani Ka Bagh

During the 18 and 19 centuries, several beautiful gardens were built by monarchs and influential courtiers along the route to Agra city. These were across a small ravine in the south-eastern corner of the walled city. The largest and most famous of them is the Sisodia Rani-ka-Bagh. This garden was created by Sawai Jai Singh II for his Sisodia queen.
It comprises multilevel gardens with fountains, watercourses, and painted pavilions. This is a perfect location for photoshoots, to relax and enjoy Jaipur's vibe in less chaos.
#14 Galta Ji Temple or Monkey Temple
Galta is a charming small pilgrimage site on Agra Road, just past Sisodia Rani-ka Bagh. There's a belief that one of the Sage Galav resided and meditated here. You will find a beautiful Balaji ka Mandir just before entering Galta. It's a three-story pink stone structure that looks more like a luxurious haveli (mansion).
Galtaji's temple lies in a beautiful canyon surrounded by low hills and has a large complex. This one, too, is of pink stone and features a plethora of pavilions with round roofs. Around the Galta temple, there are several springs and natural reservoirs (kunds) where the faithful take holy baths.
#15 Jaipur Market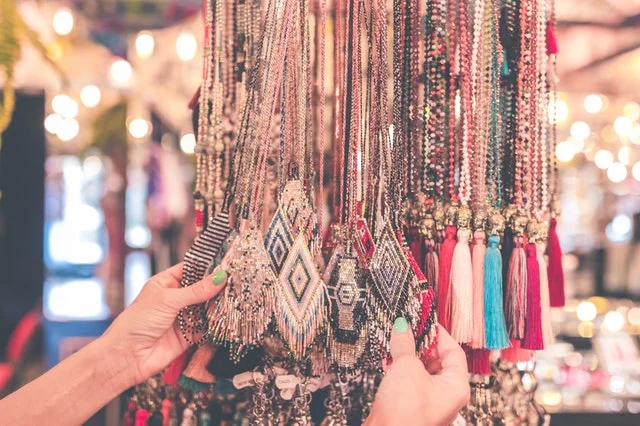 Jaipur provides a one-of-a-kind shopping experience with its vast trove of handicrafts and other things. Like captivating jewelry, exquisite diamonds, semi-precious stones, Kundan, and meenakari art (enamel work on gold), etc. Women's sarees made of beautiful cotton fabric, such as Sanganeri patterns, tie-dye, and exquisite Kota Doria sarees, are the finest bargains.
The exotic blue pottery, enamelware, and brassware make excellent souvenirs and gift items. Furthermore, woolen carpets, and cotton rugs, and leather shoes (particularly embroidered Jutis) are also popular in the city.
Johari Bazaar, MI Road, Nehru Bazaar, Bapu Bazaar, and Gourav Tower are the most popular shopping destinations.
Rajasthan's pink city never fails to add a pinkish glow during the trip to the best places to visit in Jaipur. Pink city is a mixture of greenery, mountains, tradition, and modernity along with peace. And to experience the traditional Rajput hospitality and vibrant bazaars, you must go to this city in the Jaipuri andaaz. So don't forget to book some really cool hotel, pack some traditional outfits and never forget to roam in the streets of Babu bazaar 😉
Read FAQs