Ah, the classic traveller's dilemma: to pack or not to pack? We've all been there, feeling the excitement of a new adventure mixed with the overwhelming confusion of what to carry. But fear not, dear wanderer, for I've got your back! Whether you're an experienced traveller or a first-time explorer, I've compiled a complete list of essentials while travelling to guarantee you're fully ready for any adventure.
I've been on numerous trips since I was a small child (of course with my family, and friends and sometimes, solo). My travel experience is at your service. Prepare to pack like a pro and embark on a once-in-a-lifetime journey 😉
But, I will follow my rule of explaining the questions, issues, and the topic of discussion first. I believe it's important to give you all a clear idea. This way, you will be able to think about what is essential for you. Everyone is different. If something is important to me, it might not be that important to you.
What are Travel Essentials?
Travelling is an exciting and enriching experience, but it can also present various challenges. To ensure a smooth and enjoyable journey in 2023, it is essential to be well-prepared with the right travel essentials. "Travel essentials" are items or things that are necessary and useful for a person to have while starting on a journey or travelling to a new place. These items are frequently seen as essential to providing a safe, enjoyable, and convenient travel experience.
Essentials while travelling may differ depending on the destination, purpose of travel, and individual preferences, but they generally include some common items. Travel documents (passport, visa, ID cards), money and payment methods, appropriate clothing, toiletries, electronic gadgets, medications, and any other are some necessary items that one may require while travelling. The concept behind travel essentials is to be prepared for every eventuality that may happen while away from home.
Must-Have Essentials While Travelling
Whether you are embarking on a weekend getaway or an extended international trip, having the necessary items on hand will help you stay organized, comfortable, and stress-free. In this article, we will explore the must-have essentials for travellers in 2023.
#1 Travel Documents and Money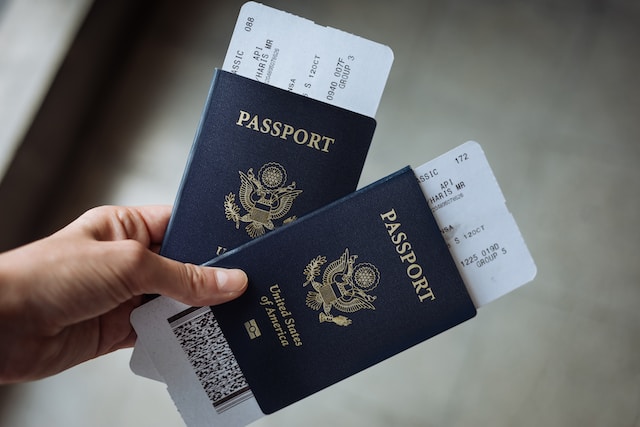 First things first! Your travel documents whether you are going for an international trip or a domestic trip. In 2023, it's advisable to keep digital copies of these documents (in phone or in cloud storage as a backup).
For domestic trips: National identification proofs, driving license, ATM card, travel insurance, etc. If you're a student, having your school/college/university ID card can be beneficial. A student ID card will help you claim some discounts or offers on tourist sites. So, it's handy to keep it with you when you go out.
For international trips: Passport (with at least six months validity), Visa (if needed), ID cards, travel insurance, and any necessary permits.
Now that you have all the weapons of your identity. Don't forget to carry something that will help you buy weapons. Money! It's the least yet most important thing in this world. Also, consider carrying multiple payment methods, such as credit cards, debit cards, etc. In an increasingly digital world, having mobile payment options like Apple Pay or Google Pay can be convenient, especially in contactless transactions.
How to Keep Your Documents Safe?
It's crucial to carry important documents, but it's equally essential to keep them safe. Losing them can be a nightmare! Luckily, there are some products available that can help you protect your documents and keep them organized in one place.
#1 GreatDio Multipurpose Multi Pocket Expanding Cheque Book Holder Travel Organizer Document Bag for Small Accessories- Brown/Black
#2 CAMPIO Stylish Travel Organizer Bag Mini Waterproof Document Holder for Your Any Vehicle Registration, Insurance, Cards, 6 Leafs & Multi Pockets for Small Accessories(Blue)
#3 TRAVELARO Document Card Portfolio Organiser for Business Cards, Photos, Money, Pen, Cards, Cheque Book Organizer, Small Notebook etc. Rakhi Gifts for Sisters(7 x 0.8 x 4.8 Inches, Cloud Beige)
#4 CRALOFT Premium 9 Inch Mini Sling Bag for Men and Women, Small Travel Bag with Water-resistant, Compact, and Sturdy Small Sling Bag (S5, Black with Radium Bar) 
#5

Amazon Basics Sling Bag/Crossbody Bag with Adjustable Strap for Daily and Travel Use, Durable, Water-Resistant, Travel-Friendly (Unisex, Black)
#2 Tech Gadgets
In the modern era, staying connected is among the essentials while travelling. Having a reliable portable charger and power banks is a must. It ensures that your electronic devices, such as smartphones, tablets, and cameras, remain charged throughout the trip. In 2023, with technological advancements and the emergence of 5G networks, these devices will play an even more significant role in navigation, communication, and capturing memories.
Apart from chargers and power banks, there are other handy tech gadgets to consider for your travel in 2023. Noise-cancelling headphones, portable Wi-Fi hotspots, and e-readers are popular choices. Additionally, consider investing in a portable water purifier or filter for regions where tap water is not safe to drink.
If you are planning for international trip then a universal travel adapter will be your best friend. Different countries have various electrical outlet configurations. A universal travel adapter is a must-have item in 2023 as it allows you to charge your devices seamlessly in any country. Look for one with multiple USB ports and support for a wide range of plug types for all your devices.
#3 Travel-Friendly Backpack or Suitcase
Not many people talk about this point but it's really essential. I remember carrying a huge suitcase on a trip where I was supposed to move a lot. A lot of stuff becomes your trip spoiler sometimes. It is among the top essentials while travelling to carry the right kind, size and colour of backpack or suitcase.
Opt for a lightweight, durable, and travel-friendly backpack or suitcase that meets the carry-on restrictions of airlines. In 2023, there will likely be innovative luggage options with smart features like GPS tracking, built-in scales, and USB charging ports.
Travel-Friendly Trolleys
#1 American Tourister Geneva 56, 69 and 79 Cms Medium Check in Polyester Soft Sided 4 Spinner Wheels Luggage (Blue)

#2 American Tourister AEROSTEP TSA Medium Size Hard-Sided Checkin Trolley (55, 67 and 77 cm, Turquoise Tonic)
#3 VIP Unisex Zip Closure Soft Trolley (Blue 55, 60 and 82 cm)
#4 Tommy Hilfiger ABS 52 cms Navy Hardsided Cabin Luggage (Crystal) 
#5 Tommy Hilfiger Triton Plus Unisex Set of Small & Mid Size Hard Luggage – Black + Grey
#4 Travel Clothing and Accessories
NOTE: Choose weather-appropriate and versatile clothing for different occasions.
Pack clothing suitable for the destination's weather and activities. In 2023, sustainable and versatile travel clothing made from eco-friendly materials is gaining popularity. Look for moisture-wicking, quick-drying, and wrinkle-resistant fabrics that will make packing and staying fresh easier. For eg, if you are travelling to India then you can wear a suitable and comfortable dress for India as a female tourist.
Remember to include accessories like scarves, hats, sunglasses, and a foldable umbrella for protection against various weather conditions.
#5 Travel-Sized Laundry Kit
A travel-sized laundry kit can be a game-changer, especially during long trips. In 2023, look for eco-friendly laundry detergents and collapsible laundry bags. This allows you to do laundry on the go and pack light, giving you the freedom to explore without worrying about running out of clean clothes.
#6 Toiletries and Personal Care
Maintaining personal hygiene and care is essential during travel. In 2023, consider investing in travel-sized, eco-friendly toiletries to reduce waste. Carry essentials like toiletries, cosmetic items, personal hygiene items and insect repellent. Don't forget to pack any prescription medications and a basic first-aid kit with band-aids, antiseptic ointment, and pain relievers.
Let me name some toiletries and personal care items:
Toothbrush and toothpaste
Soap/shower gel, shampoo and conditioner
Cosmetic items like face cream, body lotion, sunscreen, etc
Other personal hygiene items
#7 Snacks and Water Bottle
During a trip, having snacks and a water bottle is essential for a comfortable and enjoyable experience. Snacks provide quick bursts of energy, keeping hunger at bay and preventing fatigue. They come in handy during long journeys or when the next meal is far away. A variety of snacks like nuts, fruits, energy bars, or sandwiches cater to different preferences.
Equally important is a water bottle to stay hydrated throughout the trip. Hydration is vital to avoid dehydration and maintain energy levels. Having a refillable water bottle ensures access to clean drinking water while also reducing single-use plastic waste.
In conclusion, packing snacks and a water bottle ensures sustenance and hydration, making the trip more pleasant and convenient.
Best Options for Water Bottles
#1 SOLARA 1L Sipper Water Bottle with Motivational Time Marker, Sipper Bottle with Straw, Water Bottle for Gym, Office| Mobile App with Drinking Water Reminder | Mysterious Grey 
#2 Borosil Coffeemate Insulated Mug, Vacuum Insulated Travel Coffee Mug with Lid, 8 Hours Hot and 14 Hours Cold, 300 ml (Stainless Steel)
#3 Milton Coffee Mug Thermosteel Hot or Cold Insulated Flask, 350 ml, Peach | Leak Proof | Rust Proof | Tea Mug | Soup Flask | Juice Mug | Water Flask | Easy Grip | Easy to Carry
#4 Dravizon Stainless Steel Vacuum Insulated Coffee Mug 510ML Insulated Coffee Cups Double Walled Travel Mug, Car Coffee Mug with Leak Proof Lid Reusable Thermal Cup for Hot Cold Drinks Coffee, Tea 
#5

Milton Hector 1000 Pet Water Bottle, 1 Piece, 1 Litre, Grey
#8 Entertainment Options
Travellers have a wide array of choices to keep themselves entertained. Reading a captivating book or listening to favourite podcasts or music can be relaxing, especially during long flights or train rides. Additionally, modern gadgets like tablets or smartphones offer access to movies, TV shows, and games, keeping boredom at bay.
Engaging in interactive activities with fellow travellers, such as storytelling or playing travel games, fosters a sense of camaraderie. Exploring the local culture through music, dance, or attending events can also be a delightful way to immerse oneself in the destination.
In conclusion, having diverse entertainment options ensures that travellers can pass the time joyfully, making the journey as delightful as the destination.
#9 Travel Journal and Stationery
A person who writes a journal daily understands the value and will surely carry it with him/her. But for non-journalizers, especially solo travellers, it is among the unforgettable essentials while travelling. Journal is not only a book for you to write. Journal will be your travel buddy, best listener and motivator. In the digital age, a handwritten journal can be a special keepsake of your adventures.
Recording your travel memories in a physical journal is a cherished tradition. Consider carrying a travel journal and stationery to jot down your experiences, thoughts, and reflections.
Lovely Travel Journals 
I've shared a selection of my favourite journals that I adore and have personally used. Feel free to explore the available options to get a better sense of their unique features and benefits. Who knows, you might even stumble upon a product that captures your heart, just like it did mine!
#1 DOODLE Initial T Lasercut Diary Notebook, B6 (6.69 X 4.72 X 0.5 Inches), 192 Pages, 80 GSM, Birthday Gift
#2 REGAL Timeless Charm A-5 PU Leather Journal with Magnetic Flap Closure and Pen Holder- Deep Brown
#3 REGAL Premium A-5 PU leather journal with metal accessorised elastic band closure (Cadet Grey)
#4 Doodle Thoughtful Pause Hardbound Notebook Diary (A5, 80 GSM, Size 13.97 cm x 21.59 cm (5.5X 8.5 Inches),160 Ruled Pages)
#10 Travel Apps
Last but not least install important apps for Maps, language translation, accommodation booking apps, and travel guides. With a plethora of options available, these apps cater to various needs and preferences. Navigation apps help travellers find their way around unfamiliar territories, ensuring a smooth and stress-free journey. Language translation apps break down communication barriers, enabling meaningful interactions with locals. Currency converters and budgeting apps aid in managing finances effectively, while weather apps keep travellers prepared for changing conditions.
Moreover, travel apps provide access to valuable information about local attractions, restaurants, and activities, enhancing the overall travel experience. From booking accommodations to discovering hidden gems, these apps revolutionize the way we explore and enjoy our journeys.
Must-Have Travel Apps
Maps
Language Translation
Accommodation Booking
How to Carry Your Essentials?
You are ready with the weapons but where to keep them all!? If we talk about me, I hate carrying things in my hand and also need something where I will find all my necessary things. So what's the solution? I carry a small 10 L bag with at least two zips. Yes, two zips are a must 😛 One compartment for documents, money and other small things. Another compartment for bigger things like water bottle, snacks, gadgets, etc.
Small Bags to Carry While Travelling
#1 Quechua NH100 Country Walking Backpack
#2 Skybags 10 Ltrs (12 Cms) Backpack
#3 KILLER Jupiter Small Outdoor Mini Backpack 12L Daypack 
#4 Mi Step Out 12 L Mini Backpack (Small Size, Dark Blue, Water Repellant)
Bottom Line…
In conclusion, having the right essentials while travelling is crucial for a memorable and hassle-free journey in 2023. From travel documents and money to tech gadgets and personal care items, each essential plays a vital role in ensuring your travel experience is comfortable and enjoyable. It's always a good idea to double-check the latest travel guidelines and recommendations for your destination before your trip in 2023. Prepare well, pack wisely, and embrace the adventures that await you. Happy travels!
Read FAQs
The most important and must-have essentials while travelling are mentioned below:
Travel Documents and Money
Tech Gadgets
Travel-Friendly Backpack or Suitcase
Travel Clothing and Accessories
Travel-Sized Laundry Kit
Toiletries and Personal Care
Snacks and Water Bottle
Entertainment Options
Travel Journal and Stationery
Travel Apps
Disclaimer: This post features compensated affiliate links. Please read disclaimer for details and additional information.