New Delhi has accomplished great things and is linked with many important things. From historical landmarks to some of the greatest shopping malls. Additionally, from traditional Indian cuisine to some of the country's most delectable continental fare. New Delhi is one of the reasons India is famous. And the best places to visit in New Delhi are well-liked by locals, and I must admit, there's a glitter in the air (not talking about pollution ;P) of the capital city.
About New Delhi
New Delhi is the capital of India. And is additionally an administrative district of the National Capital Territory of Delhi. The Rashtrapati Bhavan, Parliament House, and the Supreme Court of India all have their offices in New Delhi.
Even though the terms Delhi and New Delhi are sometimes used interchangeably to refer to the National Capital Territory of Delhi (NCT), they are two separate entities. New Delhi is a tiny fraction of the city of Delhi. Ghaziabad, Noida, Gurgaon, and Faridabad are part of the National Capital Region, which encompasses the whole NCT as well as bordering districts in neighboring states.
During the 1911 Delhi Durbar, George V laid the foundation stone for New Delhi. British architects Edwin Lutyens and Herbert Baker designed it. Viceroy and Governor-General Irwin inaugurated the new capital on February 13, 1931.
How to Reach New Delhi?
By Air: Indira Gandhi International Airport in New Delhi is the hub for all major national and international airlines.
By Train: New Delhi has a railway station, New Delhi railway station, that connects it to the whole of India. This is a really good way to reach New Delhi on budget.
By Road: A well-developed network of highways and roads connects the city to all major Indian cities. ISBT, Kashmere Gate, Anand Vihar, and Sarai Kale Khan are all bus stops in Delhi.
Best Time to Visit New Delhi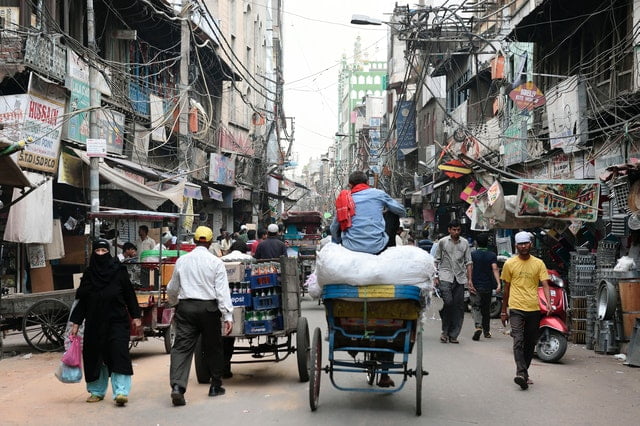 Summer (April-July): The summer season in Delhi lasts from April through July, with temperatures ranging from 25°C to 45°C. During the summer, the weather remains humid.
NOTE: Carry your water bottle to combat dehydration. And it is suggested that you drink enough of liquids (juice/water).
Monsoon (July-September): Monsoon season in Delhi runs from July until mid-September. During the monsoon, the temperature ranges from 30 to 35 degrees Celsius. The monsoon showers provided some reprieve from the city's scorching heat and humidity.
Winter: Delhi's winter season begins in December, with bitterly cold temperatures. The season will go through January. During this time, the temperature ranges from 5-22 degrees Celsius.
Top 15 Places to Visit in New Delhi
The most famous and top places to visit in New Delhi mentioned in this travellingortraveling are Red Fort, Jama Masjid, Humayun's Tomb, Mughal Garden, India Gate, Rashtrapati Bhavan, Qutab Minar, Lotus Temple, Bangla Sahib Gurudwara, Raj Ghat, Purana Quila, Akshardham, Connaught Place, Jantar Mantar, and Chandni Chowk.
#1 Red Fort
Every year on August 15th, India's Independence Day, the Prime Minister of India addresses the nation from the Red Fort ramparts. Shah Jehan, the Mughal Emperor who reigned from 1628 to 1658, constructed this magnificent fort.
Its enormous red sandstone walls loom over Old Delhi and the neighboring Jama Masjid with pride. The Red Fort's music and light display is an interactive history lesson on the great Mughals' lives and times. The Diwan-e-Khas and Diwan-e-Am, two structures within the Red Fort, are examples of experienced Mughal craftsmen's exquisite marble carving.
#2 Jama Masjid
Mughal Emperor Shah Jahan erected India's greatest mosque, Jama Masjid. Thousands of pilgrims visit the mosque every year on the holy day of Eid to offer special Namaz in the morning. During Namaz offerings, non-Muslims are not permitted inside the Masjid. Jama Masjid, one of Delhi's top attractions and finest locations to visit, attracts a large tourist population in addition to religious visitors.
#3 Humayun's Tomb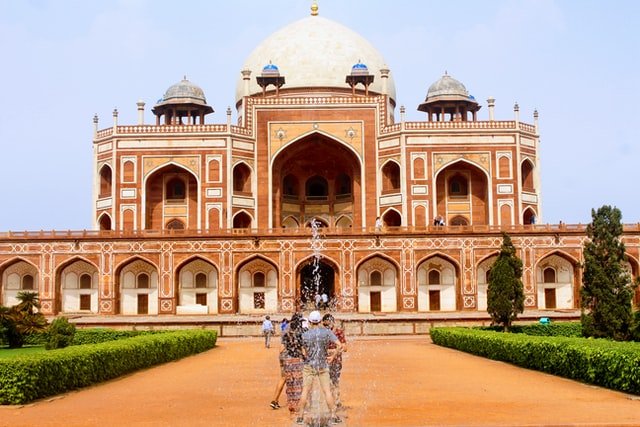 Humayun's mausoleum will remind you of the Taj Mahal; in fact, it is claimed to have influenced significant portions of the Taj Mahal. The compound that houses Nizamuddin's mausoleum also has the tombs of famed poet Amir Khusro and Jahanara, Shah Jahan's daughter who followed him to prison during his final days in Agra Fort.
This mausoleum was erected by Humayun's spouse, Hamida Begum, and is known for its symmetrical architecture and artistic elements. When the muezzins called for prayer, the Mughal Emperor died while kneeling on the stairs of his library in 1556. The layout of later Mughal structures, such as the Taj Mahal, is said to have been inspired by Humayun's Tomb, with its arrangement of a tomb inside a formal garden.
#4 Mughal Garden
Rashtrapathi Bhavan is located to the west of Mughal Garden. Lutynes planned this well-designed garden. The garden covers 13 acres and is divided into three areas (rectangular, long, and circular gardens). It is an intriguing combination of Mughal and British styles.
The Mughal-style canals, fountains, and terraces with flowering plants at various levels, as well as the Western-style lawns, hedges, and flower beds, are a visual treat. Roses, marigolds, bougainvillea, sweet William, and a variety of other trees and flowers may be found in the garden.
#5 India Gate
The major avenue of Delhi, Rajpath, or the Road of Kings, connects the President's palace, Rashtrapati Bhavan, to India Gate. This 42-meter-high arch serves as a tribute to the unidentified soldier. It was built in honor of British and Indian troops who died during World War I.
India Gate is a war memorial on the Rajpath, New Delhi. It is dedicated to the 82,000 troops who died in the First World War and the Third Anglo-Afghan War, both Indian and British. India Gate is particularly beautiful at night when the fountain is illuminated by bright lights. Picnic areas abound in the surrounding beautiful green grass. Furthermore, the Amar Jawan Jyoti is also located here.
#6 Rashtrapati Bhawan
Rashtrapati Bhawan is an unmistakable combination of symmetry, discipline, color, and harmony. The 'President House,' a colonial edifice, is regarded to be the greatest monument of the British empire. The most striking aspect of this monument is that it can be seen from a distance of 1 kilometer.
#7 Qutub Minar
Qutub Minar A trip to Delhi would not be complete without a stop at the Qutub Minar. Most visitors used to come here to extend their arms around the iron pillar – tradition has it that if you stood with your back to the pillar, bent your arms backward, and encircled the pillar such that your hands touched, whatever wish you had would come true.
That's no longer an option, as all of the wishings have damaged the bottom portion of the pillar, which is now surrounded by a fence. The Qutb Minar, on the other hand, may still be seen and marveled at for its five-story triumph tower.
The Qutab Minar, one of Delhi's most well-known structures, was started by Sultan Qutub-ud-din Aibak in 1199 A.D. but finished by his son-in-law, Sultan Iltutmish. The Qutab Minar was erected on the site of Delhi's last Hindu King, Prithvi Raj Chauhan's ort, as a symbol of the Delhi Sultanate's ascendency.
#8 Lotus Temple
The Lotus Temple is a Bahá House of Worship in Delhi, India, that was consecrated in December 1986. It has become a popular tourist attraction in the city due to its flower-like form. The Lotus Temple, like other Houses of Worship, is available to everyone, regardless of religion or other qualifications.
A Bahá' temple, according to Shoghi Effendi, is a "silent teacher" of the Bahá' faith. The structure is made up of 27 free-standing marble-clad "petals" placed in three-sided clusters to form nine sides, with nine entrances leading to a central hall with a height of little more than 34 meters and a seating capacity of 2,500 people.
#9 Gurudwara Bangla Sahib
Gurudwara Bangla Sahib is one of the most significant Sikh gurdwaras, or houses of worship, in Delhi, India, and is notable for its link with Guru Har Krishan, the eighth Sikh Guru, as well as the 'Sarovar' pool inside its complex. During the time of Mughal Emperor Shah Alam II, it was initially erected as a modest temple by Sikh General Sardar Bhagel Singh, who also oversaw the construction of nine Sikh temples in Delhi in the same year.
#10 Raj Ghat
Many leaders in Indian history have made a mark not just with their creative thinking but also by dreaming differently than others. Mahatma Gandhi is one such figure that tops the list for his major campaigns for Indian freedom. Whether it's his thought-provoking acts or his views, they're all followed to this day in India and throughout the world.
A memorial named Raj Ghat was established on the same spot where his final rites were given one day after his death, on January 31, 1948, to offer him a particular place on the land he devoted his life to. It's said that Raj Ghat was the name of an ancient ghat nestled inside Old Delhi.
There was also a Raj Ghat Gate, which led to Raj Ghat, which was located west of the Yamuna River. Gandhi's memorial became known as Raj Ghat as time passed.
#11 Old Fort
Old Fort, also known as Purana Quila, is located on Mathura Road near Pragati Maidan. Because the Old Fort, Red Fort, and Jama Masjid are all located in Old Delhi and are not far apart, you may combine your visit to the Old Fort with your tour of the Red Fort and Jama Masjid.
Humayun began building the fort in 1533 AD, but Sher Shah Suri fought him and seized Delhi before it was finished. Sher Shah Suri finished the fort and gave it the name Shergah. He built numerous constructions for the fort, including the Qila-I-Kuhna Mosque and Sher Mandal. Humayun conquered Delhi in 1555 and transformed Sher Mandal into a library.
#12 Akshardham Temple
Swaminarayan Akshardham is a Hindu temple, as well as a spiritual-cultural complex. The shrine is lies near the Noida boundary. The complex is also known as Akshardham Temple or Akshardham Delhi. It exhibits millennia of traditional and modern Hindu culture, spirituality, and architecture. And was built by BAPS and was inspired by Yogiji Maharaj and developed by Pramukh Swami Maharaj.
The complex includes an Abhishek mandap, a Sahaj Anand water show, a themed garden, and three exhibitions. These exhibitions are Sahajanand Darshan (Hall of Values), Neelkanth Darshan (an IMAX film on Swaminarayan's early life as the adolescent yogi Neelkanth), and Sanskruti Darshan (Hall of Knowledge).
#13 Connaught Palace
New Delhi's most lively neighborhood is Connaught Place. It is New Delhi's central commercial district. Connaught Place is a shopper's paradise and one of India's most well-known retail locations. It is home to some of the city's top restaurants, discos, and hotels.
Connaught Place, or C.P., was designed in a circular layout. It was established in 1931. It is Delhi's most popular retail mall. The state emporia buildings, as well as the headquarters of major banks, airlines, and other tourist attractions are all located in this region. There are several popular eateries in the neighborhood. The market offers a diverse selection of goods. It is a must-see tourist place.
#14 Jantar Mantar
In the middle of Delhi, a magnificent sight. Jantar Mantar is an astronomical observatory located in Connaught Place, Delhi's bustling retail district. The Jantar Mantar is one of the numerous observatories built by Sawai Jai Singh, the astronomer King of Rajasthan's Jaipur.
It is still used by astronomers to measure the movement of the planets and stars today. This observatory comprises enormous equipment or structures that you may climb to gaze up at the skies and marvel at their secrets.
#15 Chandni Chowk
Chandni Chowk's busy bazaar is best explored on foot or by bike rickshaw. Every alley has more stores than you can see, and Chandni Chowk is a fantastic spot to get amazing deals on clothing and silver trinkets.
Yet not satisfied by traveling to the top and most famous places to visit in New Delhi? Go and explore some less-traveled places in Delhi too ; ). Wishing you a safe and happy trip.
Read FAQs
The most famous and visited places in New Delhi are Red Fort, Jama Masjid, Humayun's Tomb, Mughal Garden, India Gate, Rashtrapati Bhavan, Qutab Minar, Lotus Temple, Bangla Sahib Gurudwara, Raj Ghat, Purana Quila, Akshardham temple, Connaught Place, Jantar Mantar, and Chandni Chowk.
New Delhi has countless historical structures, temples, and gardens. But the top 15 places to visit in New Delhi are Red Fort, Jama Masjid, Humayun's Tomb, Mughal Garden, India Gate, Rashtrapati Bhavan, Qutab Minar, Lotus Temple, Bangla Sahib Gurudwara, Raj Ghat, Purana Quila, Akshardham, Connaught Place, Jantar Mantar, and Chandni Chowk.
Other places to visit in New Delhi are Birla Mandir, Chattarpur Mandir, Delhi Zoo, Dilli Haat, Doll Museum, Hauz Khas Village, Indira Gandhi Memorial, ISKCON, Khan Market, Lajpat Nagar, Lodhi's Tomb, National Gallery of Art and other's, National Museum, Nehru Planetarium & Museum, Nizamuddin Tomb, Parliament House, Rail Museum, Rajouri Garden, Safdarjang's Tombs, Tomb of Ghiyasuddin, Vasant Kunj and Vihar.
New Delhi is considered to be a superabundance of attractions. It has some wonderful locations around it which will for sure capture your mind and soul.
Mathura - 147 km
Agra - 200 km
Haridwar - 200 km
Bharatpur - 215 km
Dehradun - 235 km
Jaipur - 300 km