Let's go on a trip together!? What could be more fairytale-like than asking this question to the love of your life? Travelling not only allows you to have more interesting conversations but also allows you to deepen your bond. Being a desi lover, I think, the next step would be to find the best places for Valentine's day in India. Then, surprise your lover with a list full of romantic things to do 😉
Why not let's get to know about Valentine's Day, its history and why is it called the day of lover and everything else about it?
About Valentine's day

Valentine's Day, also known as St. Valentine's Day, is celebrated on February 14th. On this day, lovers send letters and gift cards to one another to show their love. Given their similarities, it has been argued that the occasion is derived from Lupercalia, a mid-February Roman celebration. The festival, which celebrated the coming of spring, included fertility practices as well as the lottery pairing of men and women. Around the end of the fifth century, Pope Gelasius I prohibited the celebration of Lupercalia and is often credited for replacing it with St. Valentine's Day.
Even though there were numerous Christian martyrs named Valentine, the Day might have been named after Claudius II Gothicus, an emperor who killed a priest in 270 CE. According to legend, the priest addressed a letter to his prisoner's daughter "from Valentine." He had become acquainted with her and, according to some tales, had been healed of his eyesight.
According to some accounts, the day was named after St. Valentine of Terni, a bishop, although it is more probable that the two saints were the same person. Another well-known story is that St. Valentine defied the emperor's orders and secretly married couples to keep their husbands out of the war. As a result, his feast day is associated with love. However, the precise genesis of Valentine's Day is, at best, murky. Until the 14th century, Valentine's Day was not widely celebrated as a romantic festival.
What Are Some Ideas To Do On Valentine's Day?
Where should we go in India for Valentine's Day? What can we do on February 14th? alternatively how and where to spend Valentine's Day? These might be the challenging questions you're dealing with right now. But, believe me, the answer is pretty clear and straightforward. First and foremost, you must identify and consider your and your partner's vibe. What interests you and your partner, what makes you both happy, and how do you want to spend your time together?
Here Are Some Ideas To Do On Valentine's Day!
Party Lovers
People, parties, drinks, music, and gorgeous glittering clothes are all words for love, right? Don't even think about what to do or how to do it on Valentine's Day. Organize a vacation to a fantastic location where people love to party, or organise a private party anywhere you wish to go. There are no terrible places for Valentine's day in India or anywhere for you. Though you will feel more at home in some places than others.
Best Places For Party lovers For Valentine's Day In India: Goa, Mumbai, Delhi, Kolkata, Pune and other cities where you want to organise your own party.
Nature Lovers
Nature is the nicest gift we've ever received, and we adore it! I'm guessing you want things to be simple, tranquil, and less crowded. Plan a trip to places that are beautiful this time of year yet don't have a lot of tourists. To make the most of your time, you should also check into some of the hidden gems.
You might also choose sites that are both adventurous and greener. Imagine a vacation to a hill station and you walk to the top, where you express your love. You may also spend some quality time together by camping at the beach.
Best Valentine's Day Destinations For Nature lovers In India: Srinagar, Manali, Shimla, Darjeeling, Swaraj Dweep (Havelock Island), Port Blair, Ooty, Munnar, Lonavala, etc.
Adventurers
Let's do this! Isn't this what you typically say about new things? I think that adventure may be found wherever. The majority of the locations will appeal to you. I'm sure you'll find adventure everywhere you go. Some regions, in particular, provide more adventure than others, so you may like them.
Valentine's Day Gateway For Adventurers In India: Rishikesh, Bir-Billing, Manali, Gulmarg, Ladakh, Port Blair, Swaraj Dweep (Havelock Island), Lakshadweep, etc.
Culture Enthusiasts
You can plan a trip to a new city, country or anywhere. Because you enjoy different cultures, the ideal approach to celebrate would be to surround yourself with new people, locations, and cultures. Choose a place that you and your partner are interested in and curious about. You may also select areas that best celebrate Valentine's Day. Every occasion is celebrated differently in different towns and nations.
Best Valentine's Day Destinations For Culture Enthusiasts In India: Delhi, Mumbai, Kolkata, Ooty, Agra, Varanasi, Jaipur, etc.
NOTE: There is no defined genre in this Travelling Or Traveling article. All ten locations are ideal for people of all kinds  I emphasized the importance of including a wide range of locales, cultures, and surroundings.

People who enjoy parties, nature, adventure, and learning about new cultures may all visit the greatest ten sites featured in this article.
10 Best Places For Valentine's Day In India
Valentine's Day, the most romantic day of the year, is exciting for every couple out there. Every partner wants to do something surprising for his or her mate. Choosing the perfect place that fits your vibes is always the ideal choice, whether as a surprise or a deliberate decision.
The popular and top places to go for Valentine's day in this travellingortraveling article are Srinagar, Manali, Shimla, Mussoorie, Darjeeling, Goa, Munnar, Ooty, Port Blair and Lakshadweep.
NOTE: The places described in this article are not ranked in any way. There are places from North India to South India.
#1 Srinagar
I will say, you will have your best days in Srinagar. Srinagar, the city of lakes, is nestled in the heart of the Kashmir Valley. The amazing beauty of this valley draws travellers from all over the world. The summer capital of Jammu and Kashmir, Srinagar, is well-known for its nine historic bridges. These bridges link two areas of the city of Srinagar. Srinagar city is undeniably renowned for its lakes and the distinctive rows of houseboats that float on them.
Srinagar is one of India's most beautiful and scenic tourist destinations. Additionally, Srinagar is well-known for its traditional Kashmiri handicrafts, fine hand needlework, and dried fruits. I am sure, its erratic waterways, unique houseboats, blooming gardens, water-sport activities, and beautiful resorts will fascinate you to be a part of Kashmir forever.
How To Reach Srinagar?
You can reach Jammu and Kashmir's Srinagar by air/train or road.
What Are The Popular Places To Visit In Srinagar?
The lakes, Mughal gardens, historical palaces, mosques, and temples are among the most well-known and excellent sites to visit in Srinagar.
Things To Do In Srinagar
Sightseeing (lakes, viewpoints, landscapes, Mughal gardens, etc)
Romantic Shikara Ride
Winterwear shopping
Horse riding
Long walks in gardens
Photoshoot together, and much more
Check out the Top 12 Places To Visit In Srinagar for more information!
#2 Manali
Himachal Pradesh's Manali is among the top places to visit on valentine's day in India. Manali, a historic town, is located in the Kullu Valley. Manali's main advantage is its closeness to the snowline, which is surrounded by mountains at arm's length. This beautiful valley is far from the heat and dust. But Manali has its own following and crowd ;P  Manali has many lovely and interesting sites to explore. It is a popular honeymoon resort, a fascinating hiking destination, and is known for its glittering Gompas.
Manali in Himachal Pradesh has high snow-capped mountains, rocky boulder-strewn canyons, and lush woodlands. Wildflower meadows, charming hamlets, fruit-laden orchards, and the Beas River running through it. Its moderate temperature makes it an ideal getaway for anyone looking to escape India's severe summers.
How To Reach Manali?
You can reach Himachal Pradesh's Manali by air/train or road. The nearest airport is Bhuntar airport or Kullu Manali Airport, it's 53 km from Manali.  You can reach Manali by train also as Joginder Nagar (50 km) is the nearest railway station. Chandigarh or Ambala also serves as a great option.
What Are The Popular Places To Visit In Manali?
Manali, India, is popular for its religious sites like temples and gompas, as well as its stunning scenery and adventurous sports.
Things To Do In Manali
Sightseeing (temples, national parks, waterfalls, etc)
Hiking and trekking
Camping
Skiing
Paid adventure activities (like paragliding, mountain biking, rafting, etc)
Shopping
Long walks in the market
Try street food, and many more
Check out the Top 10 Places In Manali To Visit for more information!
#3 Shimla
Shimla, one of the best places for couples, is a lovely beauty. Shimla, the former summer capital of British India, lies in the Indian state of Himachal Pradesh. While it still has elements of British influence, it is one of India's most famous tourist destinations. Shimla is popular due to its well-developed amenities, easy accessibility, and various locations to explore. The city is surrounded by pine, cedar, and oak trees, as well as rhododendron woodlands in the lower Himalayas.
The Himalayan slopes, the mighty oak, and the blossoming rhododendron provide stunning vistas. Shimla is an appealing year-round resort because of its conveniently accessible recreational activities, such as the golf course in Naldehra and the skiing in Kufri and Narkanda.
How To Reach Shimla?
You can reach Himachal Pradesh's Shimla by Air, Train or Road.
What Are The Popular Places To Visit In Shimla?
One of the best tourist destinations, Shimla, has everything from beautiful and natural panorama to high-class and modern resorts, from temples to churches, and from exciting adventure activities to a cosy toy train.
Things To Do In Shimla
Sightseeing (temples, viewpoints, Mall road, historical buildings, etc)
Shopping
Ride Toy train
Hiking and trekking
Camping and stargazing
Couple photoshoot
Walk hand in hand in the market streets and much more.
Check out the Top 15 Places For Visit In Shimla for more information!
#4 Mussoorie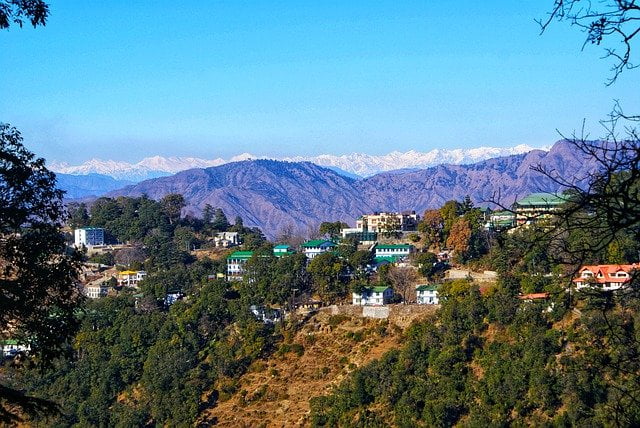 Mussoorie, situated at 2,500 meters in the Garhwal hills, is called "The Queen of Hill Stations." The beauty of this site led Captain Young of the British troops to make it his house in 1820. The name Mussoorie is derived from the profusion of 'Mussoorie' plants. After its discovery, this hill station progressively flourished as a centre of education, commerce, tourism, and beauty.
Mussoorie is one of India's most picturesque and famous hill stations. It offers lovely refuge from the hot, steamy weather of the plains, mainly as it is near enough to the capital for a weekend excursion. Also nearby are famous Hindu pilgrimage destinations such as Kedarnath, Badrinath, Gangotri, Yamunotri, Haridwar, and Rishikesh.
How To Reach Mussoorie? 
You can reach Uttarakhand's Mussoorie by Air, Train or Road.
What Are The Popular Places To Visit In Mussoorie?
Mussoorie is another among popular places to visit on Valentine's day in India. This place has several beautiful waterfalls, picturesque scenery, and sunrise and sunset spots. Mussoorie has many famous temples, and people like eating street cuisine and roaming around the market streets, especially at night.
Things To Do In Mussoorie
Sightseeing (waterfalls, hilltops, temples, market streets, etc)
Drive through the mountains
Go ropeway ride, boating, etc
Winter shopping
Enjoy beautiful sunrise and sunset
#5 Darjeeling
Darjeeling is popular as the "dream country of the East" and the "queen of hill stations." It has been a popular hill station since the days of the British. This location is strategically significant due to its closeness to three international borders: India-Nepal, India-Bhutan, and India-China. The town is rich in natural beauty, surrounded by tall mountains. In short, Darjeeling is perfect for couples and among the top places for Valentine's day.
If the weather is clear, the Kanchenjunga peak may be viewed while rivers in the valley below overflow with rain or melting snow. Darjeeling is bordered by Buddhist temples and some of the country's most beautiful tea plantations (estates). Darjeeling is also a hikers' paradise, and the Gorkha Hill Council has made numerous hiking facilities available to thrill-seeking visitors. Rock climbing is also done regularly at Darjeeling's famed Himalayan Mountaineering Institute. The Himalayan Mountaineering Institute in Darjeeling organizes rock climbing trips regularly.
How To Reach Darjeeling?
You can reach West Bengal's Darjeeling by Air, Train or Road. 
What Are The Popular Places To Visit In Darjeeling?
Darjeeling is one of the famous places to go for couples, nature and adventure lovers. This town has many lovely national parks, zoological parks, and adventure spots. West Bengal's Darjeeling is also notable for its monasteries, toy train ride, and mountain peaks.
Things To Do In Darjeeling
Sightseeing (national parks, monasteries, gardens, etc)
Visit tea estates
Ride in toy train
Paid adventure activities (like rock climbing, ropeway ride, etc)
Hiking and trekking to hilltops
Local shopping
Try local cuisine
Couple photoshoot
#6 Goa
If you ask me to characterize everything about Goa in one word, I would reply "carefree." Goa is one of the top places to visit on Valentine's day in India. There are several tourist destinations in Goa that are recognized not only for their "happening life", but also for their tranquillity amid tourism turmoil.
Goa tourism has recently attracted the attention of the whole globe. Visiting Goa is like taking a trip back in time to a period when life wasn't all hustle and bustle. The inhabitants are kind and laidback, always ready with a grin, a song, and a plethora of suggestions for how you might best explore their region.
How to reach Goa?
You can reach Goa by Air, Train, Ship or road.
What are the popular places to visit in Goa?
Goa is also popular for its colonial architecture, Gothic-style churches, historical monuments, especially beaches, and adventure activities. Additionally, let's not forget its happening life and fun-loving crazy crowd.
Things to do in Goa
Sightseeing
Beach party
Bike riding
Camping at beach
Shopping
Try street food
Adventure activities (like parasailing, boating, scuba diving, etc)
Fly in Hot Air Balloon
Romantic Photoshoot, and many more
Check out the Best Tourist Places In Goa for more information!
#7 Munnar
The chilly and lush Munnar is known as the "Kashmir of South India." It is one of India's most famous places for  Valentine's day. Munnar is a town in the Western Ghats highlands in the Idukki area of Kerala, India's southern state. It is 136 kilometres from Kerala's Cochin (the nearest airport).
It is a haven with a brisk bracing climate and panoramic views of low-flying clouds and mist-filled valleys. Munnar is surrounded by mellowed billowy hills swathed in the soothing green of huge tea estates, making it the perfect hill getaway. The snake boat races, which take place at several sites around the palm-fringed lagoons, are the city's most distinctive feature.
How to reach Munnar?
You can reach Kerala's Munnar by Air, Train or Road.
What are the popular places to visit in Munnar?
Munnar is popular for its lush woods, massive tea farms, wildlife sanctuaries, mountain streams, as well as valleys. And, of course, cash crop plantations. Finally, all of these factors combine to form the best locations to visit in Munnar.
Things to do in Munnar
Sightseeing (Tea estates, gardens, lakes, waterfalls, etc)
Paid adventure activities (like boating, camping, etc)
Hiking and trekking at hilltops
Long driving or road riding
Capture best sunrise and sunset
Couple photoshoots (especially at tea gardens)
Try south Indian food
Local shopping
Check out the Top 20 Places to Visit in Munnar for more information!
#8 Ooty
Ooty is undoubtedly a cutie for nature lovers ; ) It is famous as the "Queen of hills" in Tamil Nadu. Officially Udhagamandalam or Ooty, is one of the best places for Valentine's day in India. Ooty is a city and municipality in the Nilgiris district of Tamil Nadu. Furthermore, Ooty is the administrative centre of the Nilgiris district. It served as the Madras Presidency's summer capital.
The area was once held by the Toda people until falling under the control of the East India Company towards the end of the 18th century. The City's economy relies on tourism, agriculture, pharmaceuticals and photographic film production. The Nilgiri ghat roads and the Nilgiri Mountain Railway link the town. Its natural beauty draws visitors, and it is a popular summer resort.
How To Reach Ooty?
You can reach Tamil Nadu's Ooty by Air, Train or Road. Coimbatore Airport, which is 88 kilometres away, is the nearest airport. The railhead is in Mettupalyam (40 km). You can grab your chance of travelling in Ooty tourism toy train from Mettupalayam and Conoor. 
What Are The Popular Places To Visit In Ooty?
Udhagamandalam, in short Ooty, is a famous tourist destination due to its temperature and greenery. Ooty has many historical buildings, temples and churches. Ooty's natural places like waterfalls, lakes, tea estates, gardens and parks, mountain peaks, etc are major tourist attractions.
Things To Do In Ooty
Sightseeing (historical buildings, lakes, tea gardens, temples and churches, etc)
Hiking and trekking to hilltops
Boating together
Ride in Nilgiri Mountain Railway
Witness beautiful sunrise and sunset
Go for a long drive/bike ride
Capture a beautiful view from Doddabetta Telescope House
#9 Port Blair
Port Blair, the capital of the Union Territory of the Andaman and Nicobar Islands, is an excellent starting point for exploring the 321-island archipelago. The Cellular Jail, now designated a national monument, was once utilized as a penal colony by the British and was more famously known as Kala Pani or black waters. Evidence of the cruel punishment meted out to Indian nationalists who were exiled there to serve life sentences can be found there.
Port Blair boasts a plethora of tourist attractions, making it one of the ideal places to visit on Valentine's day. Port Blair is home to Ross Island, Corbyn's Cove, Wandoor, Sippigaht Farm, Chiriya Tapu, Neil Islands, and Havelock Islands.
How To Reach Port Blair?
You can reach Andaman and Nicobar Island's Port Blair either by Air or Ship. Port Blair's Veer Savarkar International Airport connects well to cities like Kolkata, Delhi, Hyderabad, Bangalore, etc. If you want to go by sea, you can take a ship from Chennai.
What Are The Popular Places To Visit In Port Blair?
In Port Blair, you may witness sub-islands, beautiful rivers, famous bridges, and enticing little islands. The elegance of natural parks, and numerous shopping sites also attract visitors. The most famous water sports for adventure seekers makes it the best place.
Things To Do In Port Blair
Scuba diving

Boating 

Relax at the beach

Enjoy sea kart riding

Experience Snorkelling around various areas

Local shopping
Try seafood
#10 Lakshadweep
Lakshadweep is a series of coral islands in the Arabian Sea just off the coast of Kerala. Witness the fascinating coral reefs there. The marine life in the water is diverse, and the greatest sites to visit in Lakshadweep appeal to everyone. Each island is surrounded by white coral sand. These islands draw visitors with their beautiful green surroundings, diverse marine life and vegetation, and virgin beaches.
Lakshadweep means "a hundred thousand islands" in Sanskrit and Malayalam. Originally, the tropical archipelago consisted of 36 islands. The Parali 1 Island, on the other hand, suffered from sea erosion. It has now been submerged in water, leaving just 35 islands. Despite their beauty, only six islands have been open to local visitors and three to foreigners (Agatti, Bangaram, and Kadmat Islands).
How To Reach Lakshadweep?
You can reach Lakshadweep either by Air or Ship (except during monsoon).
What Are The Popular Places To Visit In Lakshadweep?
The most popular places in Lakshadweep are prominent islands and colourful marine life. People also fall in love with the most stunning sunsets, the richest marine museums, bird sanctuaries, lovely lagoons, and old Buddhist sites.
Things To Do In Lakshadweep
Sightseeing
Beach party
Shopping
Adventure activities (like parasailing, kayaking, scuba diving, etc)
Romantic Photoshoot, and many more
Check out the Top 6 Places To Visit In Lakshadweep for more information!
I am sure that you would adore your valentine's week vacation wherever you go, as I think with love you can make everything pink and lovely ;P if we speak about these 10 best places for Valentine's Day in India, I don't doubt my choices. Whether you go to mountains (Srinagar, Manali, Shimla) or places with beaches (Goa, Port Blair, and Lakshadweep) each destination is full of romance and gorgeous charms. In the end, wishing you a nice and extremely romantic trip 😉