The "Kashmir of South India" is none other than the cool and green; Munnar. It is one of India's most famous and peaceful hill stations. Munnar lies at the confluence of three mountain streams: Mudrapuzha, Nallathanni, and Kundala. Most of the Munnar area is connected by dense forest, enormous tea estates, wildlife sanctuaries, mountain streams, valleys, and important cash crop plantations that make up the fabulous places to visit in Munnar.
About Kerala's Munnar
Munnar is a town in the mountains of the Western Ghats that lies in the Idukki region of the southwestern Indian state of Kerala. This tranquil and relaxing resort is 136 Km away from Kerala's Cochin (or Kochi) at an elevation of 1600 meters. It is a refuge with a chilly bracing environment and panoramic vistas of low-flying clouds and mist-filled valleys. Part of its allure stems from the fact that it was carved out of the virgin forest by pioneering planters a century ago.
Munnar is surrounded by mellowed billowy hills that are swathed in the calming green of extensive tea farms, making it the ideal hill resort. The Onam celebration brings the city to life. This celebration, which lasts 10 days, is full of fun and frolic. The most unique characteristic of this city is the snake boat races, which are staged at several locations on the palm-fringed lagoons.
Let me excite you by introducing you to some of the best places to visit in Munnar; Anaimudi, South India's tallest mountain, is a bit farther on. The nearby Eravikulam National Park is home to the endangered Nilgiri Tahr, which may be seen roaming the grassland or ascending the pinnacles of the undulating hills. Furthermore, without a doubt, Munnar is home to the world's greatest tea estate.
How to Reach Munnar?
By Air: The closest airports are at Kerala's Kochi and Tamil Nadu's Madurai, which are 135 and 140 km away, respectively.
By Train: The closest railway station is 135 km away at Kochi. It has excellent access to all major cities.
By Road: The area has a well-developed road network. KSRTC has a bus stop to the south of Munnar. While the town bus stop is in the contemporary new bazaar.
Best Time to Visit Munnar 
Summer (March-June): South India is all about sweat, sunny days, and greenery in summers. The air temperature will be between 23-36 degrees Celsius. The weather will be hot and the sun will be directly hitting you from the top. Hence I will say a "NO" for traveling to Munnar during summer.
NOTE: The best part about travel during summer is being light on pocket and receiving plenty of hotel deals. And you may escape sun and heat by wearing light clothes and carrying sunglasses, and hats, etc.
Monsoon (July-September): I don't think monsoon is not a romantic season or perfect for traveling but it gets a little messy. Since Munnar receives mild to heavy rainfall you will have to care for your devices and may have to cancel some plans. Without a doubt, everything will be fresh. But I will suggest not to choose this time if you especially want to go sightseeing.
Winter (November-February): The best time to visit Munnar is during the chill season; winter. The air temperature remains 10-28 degrees Celsius. The weather will be cool, lovely and perfect for sightseeing. I don't think there's any "but", everything will be just perfect during winter.
NOTE: Carry some warm or woolen clothes for the safe side. The nights get a little chilly so it's better to prepare to rock during the winter as well.
Top 20 Places to Visit in Munnar
Munnar, Kerala is all about the dense forests, enormous tea estates, wildlife sanctuaries, mountain streams, and valleys. And most important cash crop plantations. In the end, all of these things combine to make up the top places to visit in Munnar.
The best and most loved places to visit in Munnar mentioned in this travellingortraveling.com blog are Anamudi, Nyayamakad Waterfalls, Eravikulam National Park, Tea Museum, Thirumeny Cultural Centre, C.S.I Christ Church, The Blossom Hydel Park, and Pothamedu View Point. Other ones are Attukad Waterfalls, Chithirapuram, Power House Waterfalls, Kalladanthy Natural Cave, Chokramudi Peak, Devikulam. And  Mattupetty Dam, Top Station, Kolukkumalai Sunrise Point, Kolukkumalai Tea Estate, Meesapulimala, and Kundala Lake.
#1 Anamudi 
Anamudi, the tallest mountain in Southern India, is a photographer's dream and a hiker's utopia. South India's highest peak rises to a towering height of 8,842 feet. This mountain provides a spectacular experience that attracts both Indian and foreign visitors. Despite being the highest mountain in the Western Ghats, the summit receives no snowfall due to its subtropical location.
It is home to a plethora of animal and bird species due to its deep evergreen woods and flowing rivers. And is fantastic in terms of housing the endangered Asian elephants, Nilgiri Tahr and Gaur. In the woodlands, you may also locate the uncommon Neelakurinji flowers 😉
Furthermore, Anamudi Peak is a popular destination for outdoor activities. It is one of the most thrilling hiking routes in Southern India. Many photographers are drawn to the peak's mesmerizing beauty and animals. It is an ideal picnic place for both residents and visitors from neighboring towns.
#2 Nyayamakad Waterfalls
Visitors are renowned and cherish this magnificent waterfall in the valley. It nestles between Munnar and Rajamala. Embark on a tour to Munnar's most incredible waterfall and observe the rustic local culture of ladies harvesting tea leaves. The 10 km long winding path from Munnar and little rivulets chiseling down the green mountainous slopes, here the nature has a way of providing fleeting euphoric moments.
You may also meet tea pickers and Nilgiri Tahr from a distance. The area is shrouded in mist due to the giant waterfalls, and it serves as a paradise for every tourist that comes here in search of adventure or calm.
#3 Eravikulam National Park
Eravikulam National Park is 45 minutes drive from Munnar's city center and sits on a peak in the Western Ghats. This is one of the most popular Munnar tourism destinations, spanning a 97-kilometer expanse of land. It is home to a diverse range of flora and animals and stands out among the other UNESCO World Heritage Sites.
Eravikulam National Park, which was formerly managed as a game reserve, is also known as the Rajamalai Wildlife Sanctuary. And there are around 132 distinct bird species, 19 amphibian species, 26 mammalian species, 101 butterfly species, and 20 orchid species.
Participate in its eco-tourism activities if you wish to try something new here. As part of this excursion, you will be trespassing on many attractions and activities in and around the national park.
#4 Tea Museum
Munnar's history has been associated with tea gardens for over a century. In reality, Munnar is home to some of the world's top tea farms. It is a crucial source of employment for the inhabitants of Munnar. Kannan Devan Tea Plantation is a Tata-owned tea estate in Munnar home to the majority of Munnar's tea farms. The Tata Tea Museum, also known as the KDHP Museum, is situated 2 km from Munnar's center.
This museum is a homage to all the pioneers of Munnar's tea plantations who developed it into Kerala's leading tea wholesalers. Actually, Tata Tea Museum is a unique Indian museum. Tourists that come here learn about the establishment and evolution of India's tea plantation business. From the manually driven tea roller to the wholly automated tea factory, you will learn about every aspect of Munnar's tea plantation automation.
#5 Thirumeny Cultural Centre
Thirumeni Cultural Centre offers you the opportunity to spend an evening in the gorgeous setting of green hills, fragrance tea plains, and foggy skyline, accompanied by goose-tingling performances of Kerala's two most renowned and recognized art forms, Kalarippayattu, and Kathakali.
You may also go to the make-up area to witness how the artists are getting ready and to ask questions if you know any of the Kathakali performers. And eventually, enjoy the enthralling performance of Kathakali art, which recounts tales via dance movements, gestures, and emotions.
On the other hand, Kalaripayattu is a Martial Art that combines nimble gymnastic movements. I am sure you would not be able to stop applauding after the performers dueled with knives, swords, and spears and performed a perfect somersault.
#6 C.S.I Christ Church
Visitors adore this antique church for the peace they discover when visiting C.S.I Christ Church on a little hillside in Munnar. Every stone of this pristine, well-maintained, and very silent British-era church screams history.
The stained glass windows, gothic-style architecture, granite flooring, and brass plaques all contribute to the church's appearance as a link connecting the past to the present. It was erected in 1910 by British missionaries and has served as a place of worship for Christians ever since. This is one of the top places to visit in Munnar since it is well-kept, clean, and lovely.
#7 The Blossom Hydel Park
Blossom Park is a beautiful spot that lies 3 km from Munnar's main town and is near the Pallivasal Hydroelectric Project. Blossom Hydel Park is a 16-acre exotic land piece with a broad variety of fresh flowers, beautiful green scenery, mountain butterflies, and welcoming migrating waterbirds. The grandeur of this park is enhanced by the Muthirapuzha River, which runs through it.
You may also participate in their adventure trails to learn about the park's developmental stages and commercial significance. Other activities include roller skating, nature hikes, badminton, bird viewing, and boating. People that come here like doing nature dances around a lighted bonfire with calm music playing in the background.
As you go through the park, you will be astounded by the breathtaking vistas of the huge Western Ghats and the Kannan Devan Hill Tea Estates. A quiet splash of cool air will refresh you as you travel through Mother Nature's lonesome arms here.
#8 Pothamedu View Point
There are a plethora of best places to visit in Munnar which have a relaxing atmosphere and Pothamedu is one of them. Embraced by mist and vegetation, the Pothamedu viewpoint is well worth the trek. This viewpoint permits the valley's panoramic view, and if the weather is fine, you can see the Muthirapuzha River and Idukki Arch Dam from a height.
The scenery consists of a succession of green hill slopes, where tea, coffee, cardamom, and pepper create a green blanket all over the hills. Enjoy the breathtaking view of the valley while sipping ginger tea from the sole tea store around. And one of the best ways to spend your holiday here is to watch the sunset over the huge expanse of the Sahyadri hills.
#9 Attukad Waterfalls
Munnar, the ethereally gorgeous hill station in 'God's own country Kerala,' is also home to some of the most lively waterfalls in the Western Ghats Mountains. A visit to the legendary mountain springs near Munnar, one of which is the Atukkad Falls, cannot be missed whether you are a wandering free-spirit, nature photography lover, birder, or just a vacationer on the Nilgiri side of Kerala.
It is situated in the hilly Idukki area on the road from Munnar to Pallivasal, where the Attukad Falls cascades down roaringly. There's a lot of greenery and a lot of tranquility found in the middle of pure nature. Unlike other mountain sites, Attukad Falls in the Western Ghats is best visited throughout the monsoon season as well as during the clearer seasons.
#10 Chithirapuram
Chithirapuram lies 10 km from Munnar Town, is a lovely hillside town that is one of the top Munnar tourist attractions. Many palaces, tea gardens, and beautiful green valleys are present here, as well as stunning colonial legacy and old town charm. This location is ideal for people seeking solitude and calm.
Chithirapuram is well-known among visitors who like outdoor activities such as paragliding, climbing, trekking, boating, parasailing, mountaineering, and so on. And the main attractions in the area are the Wonder Valley Adventure and Amusement Park, Mountain Hiking Through Tea Plantation, and Dream Land Fun and Adventure.
#11 Power House Waterfalls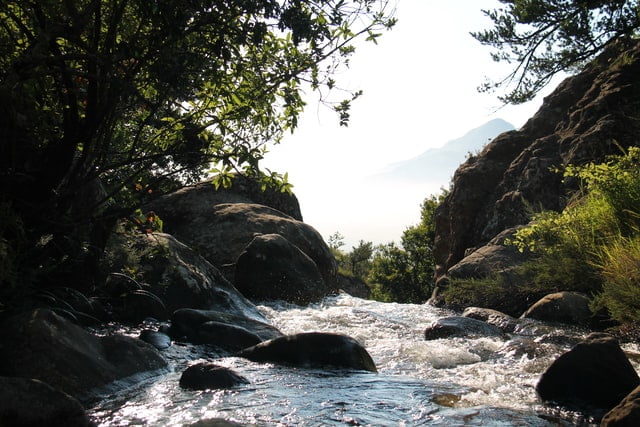 PowerHouse Waterfalls, also known as Chinnakanal waterfalls, are 18 km from Munnar. And may provide an excellent halfway stop on your journey to Periyar Wildlife Sanctuary in Thekkady. The region near Power House waterfalls is brimming with undiscovered lush foliage and beauty, with magnificent waterfalls.
The waterfalls are about 2000m above sea level. These are surrounded by the enchantment of tea plantations, majestic hills, and forests. The beautiful grandeur of the western ghats surrounding waterfalls is a pleasure to see. You may also take a swim and relax in the natural pool at the bottom of the falls during your stay.
#12 Kalladanthy Natural Cave
Kalladanthy is a natural cave park and lies in Pottankad. It is at a 14 km distance from Munnar. Kalladanthy is Munnar's sole natural park where you may relax in nature with your family. The caverns, streams, rocks, and cool air created by nature will transport you to a new world, a world from the past.
#13 Chokramudi Peak
This solitary elevation portion of a hill will keep you captivated for hours. Chokramudi is in the Eravikulam National Park at 7,200 feet above sea level. It is a short and simple trek that can be completed in a day, and since it is located inside the national park, it is hidden by the rich green Shola forest.
Pthamedu is the trek base, about an hour's drive from Munnar, and the journey may last 4 to 5 hours, covering a distance of 10 km or more. When you reach the summit, breathe in the pure air; if you go early in the morning, you can also see the flaming dawn.
#14 Devikulam
Devikulam is a charming tiny hill station surrounded by lush flora and natural beauty. This is a fantastic day trip location from Munnar since it is so near. Devikulam, which roughly translates as 'pond or lake of the Devi,' is an excellent alternative to other Munnar tourist attractions.
The unusual vegetation and animals have made the town a must-see for anyone passing through. The nearest sight to the town, Sita Devi Lake, is a popular tourist destination in Kerala. There are also several tea and spice plantations in this region.
Some of the most popular locations to visit in Devikulam: Lockhart Gap View and Tea Museum, Swiftlet Cave Munnar, and Chinnakanel WaterFalls. You might also go to the adjacent Chinnar Wildlife Sanctuary. If you're seeking spiritual or physical renewal, this hill station should definitely be on your itinerary.
#15 Mattupetty Dam
The Mattupetty Dam, named after the hill town of Mattupetty, is located in Munnar's lap of hills. In the 1940s, this concrete storage gravity dam was built for hydropower generating and water communication. The dam is now not just a significant source of power in the area, but also a famous tourist attraction.
When visiting the Mattupetty Dam, you may engage in a variety of activities. Activities like bird viewing, watersports, boating, and so on. Several of these activities are arranged by the Idukki District Tourism Promotion Council (Munnar), so you can be certain that they are all legal and safe.
On the road to Mattupetty Dam from Munnar city, you may stop at various renowned attractions such as Munnar Botanical Garden, Munnar Rose Garden, Photo Point, Carmelagiri Elephant Park, etc as well.
#16 Top Station 
Top Station, which settles around 32 km from Munnar, is a sight to behold! This was my favorite location in Munnar. And it's one of the best places to visit in Munnar. It is the highest point of Munnar, and its name comes from the highest railway station in Kundala Valley. The remains of the railway station can still be seen from the Munnar Tea Museum.
The 1700 meters altitude offers a peaceful view of the Western Ghats and the lovely Theni Valley in Tamil Nadu. When you get to the top, you almost feel like you can reach the sky, making this place a real 'Heaven on Earth'!
Actually, it is particularly known for its rich flora and the Neelakurinji flowers (bloom once every twelve years). From here, you can watch the sunrise and sunset as well. The morning view is not that clear but the sunset is unmatchable. Alternatively, if you wish to go to a particular dawn spot, then go visit Kolukkumalai Sunrise Point 😉
#17 Kolukkumalai Sunrise point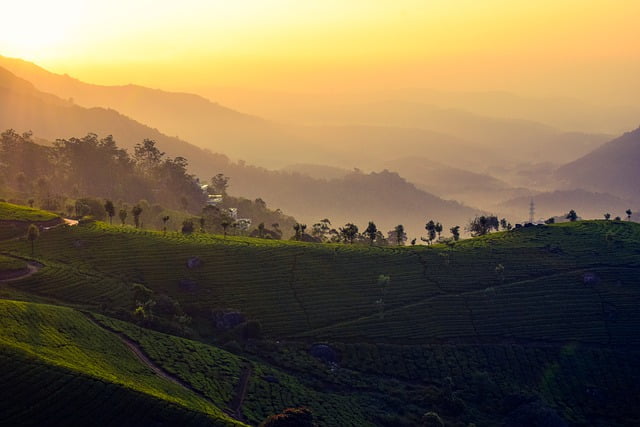 Kolukkumalai is 32 km away from Munnar Town and is around 7,130 feet above sea level. Kolukkumalai is a tiny hamlet in Tamil Nadu's Theni District. Due to the rocky and rain-soaked roads that stretch for up to 17 km, this highland community is only accessible by jeep.
Kolukkumalai; as the name suggests, is a mountain and one of the most beautiful places in Munnar, Kerala. It is home to the world's highest tea plantations, and the tea cultivated here has a distinct taste and freshness due to its high altitude.
Furthermore, this is one of the best places to see the dawn. It's close to the starting location, Chinnakanal. It's an amazing offroad adventure from Chinnakanal to Kolukkumalai.
#18 Kolukkumalai Tea Estate
The world-famous Kolukkumalai Tea Estate holds the record for the highest tea plantation in the world. It is at around 7950 feet above sea level. This tea estate is located on the lofty Kolukkumalai Hills, approximately 31 km from the town of Munnar.
This region is notable all over the globe for producing distinctive and flavorful tea leaves, enticing travelers with its beautiful ambiance and awe-inspiring visual splendor of verdant tea gardens. This tea farm is home to an old tea factory from the mid-twentieth century. Even now, this facility produces tea using ancient, traditional procedures and processes.
Tourists that visit here often like photographing the stunning sunset in the evening. While standing on this hill and taking a deep breath in the fresh air, you will undoubtedly enjoy the gentle and cold wind brushing your face and going through your hair.
#19 Meesapulimala
Meesapulimala, with a height of 2640 meters above sea level, is the second-highest peak in the Western Ghat mountain range. This mountain range is a trekker's dream in southern India. The peak derives its name from the fact that it is composed of eight summits. These mountains are all spread out and have a mustache-like shape
The magnificence of the mountain range can only be properly appreciated if you trek to the summit. To that aim, you may choose different ways. One is to park the vehicle at the base camp and then trek. The easier one is to do the 8 km hike from Rhodovalley to Meesapulimala. Or hike to the mountains from Silent Valley, which is 6 km distant from Rhodo Valley.
Regardless of the path you choose, the breathtaking vistas of the region's meadows, emerald green rainforests, and diverse fauna will take your breath away. Furthermore, Meesapulimala is a UNESCO World Heritage Site, thus it is well worth a visit.
#20 Kundala Lake
Kundala Lake has a multitude of natural wonders to offer to wanderlust travelers willing to go the additional mile to fulfill their restless inclinations. Kundala Lake settles at an elevation of 1700 meters above sea level, is among must-see places to visit in Munnar.
The pleasant perfume of fresh tea leaves combined with the slopes of the Nilgiris beneath the canopy of the blue sky above will make your vacation experiences better than before. The historical dam that carries the lake's name is one of Kundala Lake's main attractions. Kundala is a flower lover's heaven. Furthermore, the Sethu Parvathi Dam and the Golf Course are two neighboring tourist attractions.
In the end, I won't say anything other than that "yes! it's absolutely true; Munnar is the Kashmir of South India". I am glad that I have been to these amazing places to visit in Munnar. And I don't regret a single day out of those days I have spent in this town. I was amazed by the beauty of this place and I am sure you will as well 😉
Read FAQs