Kochi, which spreads across many islands and a peninsula, is a mash-up of medieval Portuguese, European architecture, Holland, and an English rural hamlet. India's oldest church, St Francis, unbroken fishing nets, an authorized Jewish community, etc are some of the top places to visit in Kochi. It's a must-see for anyone looking for something fresh with a whiff of the ancestral diorama.
About Kerala's Kochi
Kochi, formerly known as Cochin, lies in Ernakulam district. It boasts one of the world's best natural ports and is additionally Kerala's economic and industrial hub. Kerala's most popular tourist attraction, Kochi, sprawls across islands and promontories in a breathtaking setting between the Arabian Sea coast and the Backwaters.
Its two main sections are linked by a complicated system of ferries. These are contemporary Ernakulam in the east and the historic districts of Mattancherry and Fort Cochin on a peninsula in the west. Ancient seafarers from Arabia, China, Holland, the United Kingdom, and Portugal have all left their imprint on this lovely island metropolis.
Furthermore, there is a commercial hub for cashew nut, coir, fish, wood, tea, coffee, rubber, and spice merchants. This is why Kerela is known as "the spice coast." A Jewish community with origins dating back to 1000 AD, as well as a 16th-century synagogue, bear witness to this.
How to Reach Kochi?
By Air: Kochi has a good air network and Cochin Airport provides direct connections to all major airports in India. All Indian states, as well as major cities, have regular flights from and to Kochi.
By Train: Kochi has three important railway stations namely, Ernakulam Junction, Ernakulam Town, and Wellington Island's Harbour Terminus.
By Road: Kochi, being an important commercial hub in South India, serves well by a network of national and state roads to all other locations in the region.
Best Time to Visit Kochi
Summer (March-June): Kochi's summer is quite hot, sunny, and sweaty. The air temperature remains between 20-37 degrees Celsius. In my opinion, this is a good time to save your money and look forward to hotel deals. But the high temperature will not allow you to love the city as much.
Monsoon (July-September): Who doesn't love monsoon? I mean the city gets clean, green and charming. This is a really good time for adventure lovers. But if you are up for exploration then avoid the monsoon. As Kochi receives a good amount of rain you may have to cancel your plans anytime.
NOTE: Don't forget to carry your umbrella, raincoat and have a plan to save your electronic devices from water.
Winter (October-February): The best time to visit Kochi is during winter. The weather of Kerala's Kochi gets lovely and inviting. The air temperature remains between 17-33 degrees Celsius. Moreover, the winter of Kochi is best for honeymooners, beach lovers, and adventure seekers.
NOTE: Winter being the best time, opens its doors for many tourists, in short, except the crowd. And book your tickets and hotels early.
Top 20 Places to Visit in Kochi
Cochin, known as the "Queen of the Arabian Sea", boasts a plethora of tourist attractions. The popular places here are religious places like churches, temples and mosques, historical buildings, bluish and inviting beaches, modern and hi-tech malls, adventure parks and street markets, etc.
The best and top 20 places to visit in Kochi mentioned in this travellingortraveling blog are Fort Cochin, St. Francis Church, Malayatoor, Mattancherry Palace, Paradesi Synagogue and Jew Town, Bolghatty Palace, Hill Palace Museum, Kerala Folklore Museum, Indo – Portuguese Museum, Chottanikara Bhagavathy Temple, Ernakulam Shiva Temple, Mangalavanam Bird Sanctuary, Veeranpuzha Lake and Backwaters, Marine Drive, Andhakaranazhi Beach, Chinese Fishing Nets, Wellington Island, Vypin Island, Lulu Mall, and Wonderla Amusement Park.
#1 Fort Cochin
Fort Cochin is a tiny town in its own right. Europeans have had a significant effect on Cochin's cultural and traditional heritage. And the sight of this lovely location clearly demonstrates this point.
The following are some of the sights to visit at the fort:
Vasco Da Gama Square: It is a small beachfront promenade.
Pierce Leslie Bungalow: This beautiful house was the office of Pierce Leslie & Co. (coffee merchants), founded in 1862. Mansion exhibits Portuguese, Dutch, and local influences.
Santa Cruz Cathedral Basilica: The church, Santa Cruz Basilica, was erected by the Portuguese and raised to the status of a cathedral by Pope Paul in 1558. This massive cathedral features magnificent murals on the ceiling.
It is a significant landmark in Cochin. The Basilica's interiors are worth seeing, notably the magnificent stained glass.
Princess Street: It was one of the first streets built in Fort Cochin.
Vasco House: It is thought to have been Vasco Da Gama's home.
#2 St. Francis Church
Portuguese Franciscan Friars built India's oldest European church, in 1503. The Protestant Dutch repaired it in 1779, the British made it an Anglican Church in 1795, and now, it is used by the Church of South India. Vasco da Gama's remains were buried here in 1524 before being relocated to Lisbon, Portugal, although his tombstone still stands.
#3 Malayatoor
Malayattoor is unique among Cochin tourism destinations since it is a meeting point for land, river, and mountain. The Malayattoor Hill is home to the famous Malayattoor Church, which is dedicated to St. Thomas, who is said to have worshipped at this shrine. This major Christian holy spot in Kochi attracts a large number of pilgrims who travel through the southern portion of the country throughout the year.
The Church has a life-size statue of the Saint as well as the impression of the Apostle's foot on a rock. This location has been an international pilgrimage site for Christians all over the world. Every year, the annual feast takes place on the first Sunday of Easter.
#4 Mattancherry Palace
The palace was built by the Portuguese in 1557 and handed to Raja Veera Kerala Varma of Kochi to atone for the robbery and destruction of a temple near Raja's palace by a young Portuguese officer. The paintings representing events from the Ramayana, Mahabharata, and Hindu Puranic tales are distinguishing features of this palace.
#5 Paradesi Synagogue and Jew Town
The Paradesi Synagogue or Jewish Synagogue was built in 1568 and is the commonwealth's oldest synagogue. It was destroyed by bombardment during a Portuguese invasion in 1662 and restored by the Dutch two years later.
The Synagogue is notable for its mid-18th-century hand-printed, willow pattern floor tiles from Guangzhou (or Canton), China. A dock tower, Hebrew inscriptions on stone slabs, ancient writings on copper plates, and so on.
Jew Town, a haven for antique collectors, is located on a tiny lane between the Synagogue and Mattancherry Palace. Little pieces of history created in metal and wood, ready to be acquired by curious tourists.
#6 Bolghatty Palace
Bolghatty, a scenic island near Ernakulam, is notable for the Bolghatty Palace, which was erected by the Dutch in 1744 AD. It is surrounded by thick greenery and the breathtaking visual splendor of backwaters. You may go there in an exciting way by hiring ferry services.
This palace, which was formerly the home of a British resident of Kochi, is now a KTDC (Kerala Tourism Development Corporation) hotel.
#7 Hill Palace Museum
Hill Palace, the principal palace of the Kochi royal family, was erected in 1865 AD, 10 km from Kochi. It has 49 structures designed in Kerala's Traditional Architectural Style. And is surrounded by 52 acres of terraced ground with a Deer Park and horseback riding amenities.
The primary attractions include a full-fledged ethnoarchaeological museum and Kerala's first-ever heritage museum. Oil paintings, 19th-century paintings, murals, Parisian stone and plaster sculptures, manuscripts, inscriptions, and coins from the Kochi rookery are on display in the thirteen galleries.
#8 Kerala Folklore Museum
Folk art, tribal art, traditional art, anthropology, architecture, history, culture, and heritage of South India are all represented in the museum. Mrs. and Mr. George Thaliath founded the museum, which strives to conserve Kerala's culture, legacy, and folk art education.
It is a repository of forgotten southern Indian pride, containing some rare antiques such as Sri Guruvayurappan, watercolor on paper, Lord Brahma and Goddess Saraswathi marriage, oil on canvas, Kindi, a sort of pitcher commonly seen in old households, and many more valuable gems.
For over 8 years, 62 artists toiled on wood, burning the midnight oil, to construct this shrine for craftspeople. A must-see destination for visitors, students, researchers, and anthropological investigations.
#9 Indo – Portuguese Museum
The Late Bishop of Kochi, Dr. Joseph Kureethra, founded this museum to highlight the rich cultural history of the Portuguese in India. The museum's five primary parts are the Altar, Treasure, Procession, Civil Life, and Cathedral, which display different artifacts and things from that time period.
This collection's contributions have come from churches throughout Kerala. For a deeper knowledge of history, you can take a guided tour of the museum.
#10 Chottanikara Bhagavathy Temple
This is the most visited and respected Hindu temple in the southern hemisphere. It worships the healing deities Chottanikkara Bhagavathy Amman and Keezhu Kaavu Bhadrakali Amman. Claims are that worshipping the deities at this 1500-year-old temple regularly may heal life-threatening ailments.
The temple grounds have a Pala tree that has been pierced with thousands of nails, the rationale being that patrons who have been healed of mental illnesses drive a nail across the tree. Before entering the temple, Men need to open their shirts. On the other hand, ladies should dress in Indian clothing to show respect.
#11 Ernakulam Shiva Temple
This ancient Shiva temple, also known as the Ernakulathappan Temple, lies in the center of Ernakulam. And is one of Kerala's most important temples for Shiva worshipers. It is one of the seven royal temples of the Maharaja of Kochi and is located on the Durbar hall grounds.
The original lingam worshipped by Arjuna of Mahabharat renown is still maintained within the temple premises, which is located on one acre of sacred land. The great yearly celebration, along with other festivals and occasions, is held throughout the Malayalam month of Makaram.
#12 Mangalavanam Bird Sanctuary
This environmentally vulnerable region in Kochi's center spans 2.74 hectares of land. It features a tiny tidal lake that links to Kochi by a canal. It is well-known for a large number of migrating birds that come to this location throughout the migratory season, as well as for its contribution to the area's mangrove forests.
Sanctuary keeps the city's pollutants at bay, as a result, they call it "Kerala's green lungs". Mangalavanam Bird Sanctuary attracts many nature enthusiasts and environmentalists because of its diverse flora and wildlife. A remarkable 72 distinct bird species have been discovered in this region alone, contributing to the richness of this location.
#13 Veeranpuzha Lake and Backwaters
Veeranpuzha Lake lies in the northern extension of Vembanad Lake. And a series of brackish lagoons and lakes that run parallel to the Malabar coast surrounds it. Around it are the beautiful green paddy fields that swing to the soft breeze, adding to the mysterious beauty of the location.
The region is also a meeting point between contemporary life and life on the backwaters. Angling (method of fishing) is a popular weekend pastime among the residents, and the area is well-known for producing Pokkali rice, a Kerala specialty.
#14 Marine Drive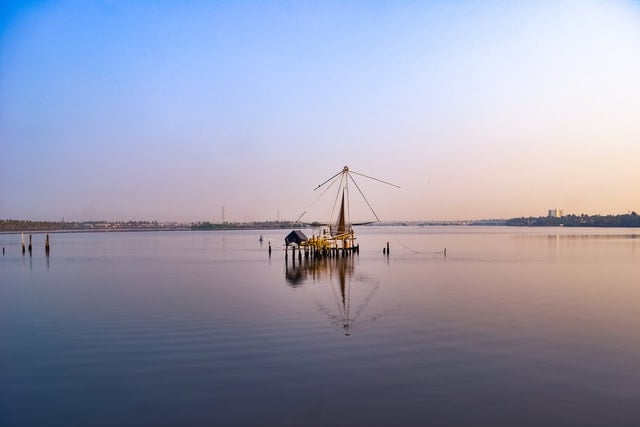 Marine Drive is a charming location among the various places to visit in Kochi that Kerala is proud of. Exclusively built facing the backwaters, it provides a pleasant and attractive image, particularly during the nighttime hours, drawing both residents and visitors.
Along with the Rainbow Bridge, which is a popular tourist attraction, the Marine Drive has many shopping malls, fast food restaurants, and other prominent landmark structures in Kochi.
#15 Andhakaranazhi Beach
This popular tourist destination is located in a seaside village 4 km from Pattanakkad. The tall white and red lighthouse draws attention as it aids seafarers in their navigation at night. Andhakaranazhi Beach is a popular location for Malayalam film shoots, which draws greater attention from people.
Despite being severely damaged by the 2004 Tsunami, a fresh new bridge and an aerial walkway have been built to the sea wall for a wonderful view of a dramatic sunset.
#16 Chinese Fishing Nets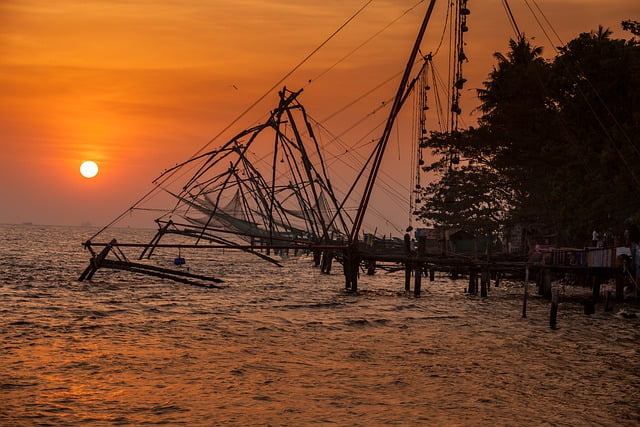 Traders brought these massive cantilevered fishing nets from Kublai Khan's palace. A visit to Cochin would be incomplete without seeing the Chinese Fishing Nets on the seashore. These nets, which were brought by Chinese traders, use a mechanical way of catching fish.
#17 Wellington Island
The largest artificial island in India, named after India's Viceroy, Lord Willingdon. It is a portion of Kochi constructed by filling in dredged dirt around an existing small island. The island is proud to have numerous historic offices, including those of the Navy, Customs, Port Trust, and Fisheries Department.
This island connects Kochi to major international seaports, making it a popular location for commercial and financial organizations. A stay at any of the island's finest resorts or hotels gives an unobstructed view of the Arabian Sea and its enticing beauty.
#18 Vypin Island
Vypin Island is one of the numerous small islands that make up the city. It is one of Kochi's most densely inhabited and fastest-growing areas, spanning a 25-kilometer radius. The drive to the island itself is enthralling, comprising a series of bridges known as Goshree bridges that give a beautiful perspective against the pure blue seas.
Once on the island, there are several tourist attractions to visit. Like the Puthuvype Beach, Kuzhuppilly Beach, Cherai Beach, the Portuguese Azhikotta fort, one of the oldest European forts in India, and the lighthouse at Ochanthuruthu, which provides breathtaking views of the sea.
#19 Lulu Mall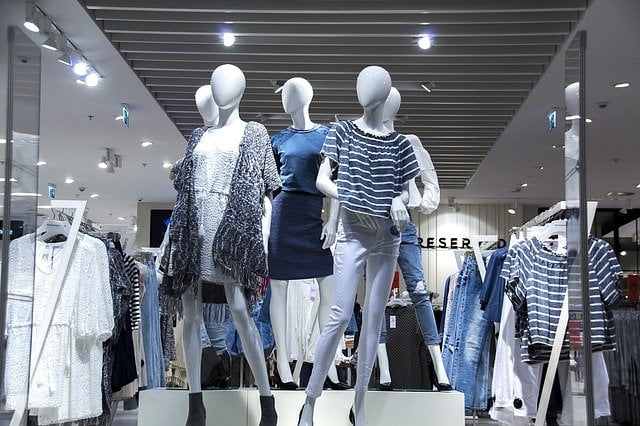 The Lulu Shopping Mall, one of India's largest shopping malls, welcomes you to the land of bliss. This is a place to treat yourself, with 225 stores, a 2,500-seater food court, top 100 brands, and 11 fine-dining restaurants.
Furthermore, the mall also has a 9-screen Cineplex, amusement rides, one of the largest ice skating rinks, and a 12-lane bowling alley, making it a popular weekend destination for people of all ages.
#20 Wonderla Amusement Park
This is one of Kochi's major amusement parks. It includes water attractions, land rides, 3D rides, and a variety of other exciting rides. This is one of the best places to visit in Kochi whether you're traveling with a child or a natural adventurer.
Some of its key attractions are Caterpillar village, Chikku's adventures, Dashin vehicles, the Fire Brigade, the Sky Wheel, the Windmill, and the Wonder Splash.
I must say the best tourist attractions to visit in Kochi are uncountable. And it was difficult to point out the top 20 Places to Visit in Kochi to make your vacation perfect with the combination of all types of places. I am sure you will love Kochi and hope that you will have blast on your trip 😉
Read FAQs