Kullu is a beautiful place with many names like "Valley of Gods" and the "Silver Valley". It was once known as Kulanthpitha, "the end to the livable world". As beyond its borders loomed majestic Greater Himalayas and by River Beas sprawled the valley. This area has retained its traditional charm and simplicity over a long period of isolation. Only after independence did the best places to visit in Kullu become accessible to the outside world.
About Himachal Pradesh's Kullu
The Silver Valley is a hidden treasure of natural beauty. It's home to beautiful flowers, delicious fruits, and verdant valleys. Its lush greenery, along with the bare mountains, glaciers, and snowfields give it a charming appearance. And looks beautiful during the daytime in the bright sunlight.
Himachal Pradesh's Kullu is well-known for its colorful Dussehra. And has been a center of faith for centuries. Kullu is basically famous for its ancient temples, and apple orchards.
Besides the tourist places and other things, it is also notable for its handicrafts and woolens. Such as shawls, caps, pullas (slippers), namdas (woolen mattress), and patoos.
How to Reach Kullu?
By Air: The closes airport is Kullu Manali Airport or Bhuntar Airport. It is located 10 km from Kullu, just next to Bhuntar's bus stop. Regular flights to major Indian cities and other airports of Himachal Pradesh are available.
By Train: The closest narrow-gauge railway station is in Joginder Nagar. It is 120 km away on the Mandi–Pathankot route. Kiratpur, 200 km away on the Kullu–Chandigarh highway, is another railway station. Una is another nearby station, which is approximately at a distance of 260 km.
By Road: Kullu has good roads connections to other parts of India. Buses are frequently available from Kullu and Manali's HRTC bus stops to all major cities.
Best Time to Visit Kullu
Summer (March-June): Undoubtedly, the best time to visit Kullu. The weather in Kullu will be a little warm and more soothing. The air temperature lies between 10-25 degrees Celsius. Actually, the weather of Kullu and Manali town remains the same during all the seasons
NOTE: This is the peak season so expect crowd, high hotel prices, and queues during the entrances of the temples, and adventure activities, etc.
Monsoon (July-September): One must avoid the monsoon of Himachal Pradesh. Roadblocks due to landslides and misshapen are common with irregular and heavy rain showers.
NOTE: Travel during monsoon only If you think the situation is under control and be ready to face any challenge.
Winter (October-February): The good time to visit Kullu is during winter. The air temperature goes below 0 degrees Celsius and the city gets a snowy blanket over it. This season is extremely cold and offers a beautiful sight to the traveler's eyes.
NOTE: The best season for sightseeing is summer. Winters are best for enjoying snowy nature and honeymooners.
Best Places to Visit in Kullu
Being the valley of Gods, the Kullu district offers uncountable temples for tourists, panoramic views, and adventure activities.
The best and most popular places to visit in Kullu mentioned in this travellingortraveling blog are Raghunath Temple, Bijli Mahadev Temple, Jana Waterfall, Hanogi Mata temple, Jagannathi Devi Temple, Great Himalayan National Park, Naggar Castle, Gauri Shankar Temple, Dechen Choekhor Mahavihara Monastery, Dhakpo Shedrupling Monastery, Raison, Shoja, Manikaran, and Kasol.
#1 Raghunath Temple
The chief deity in Kullu is Raghunath Ji. Raghunath, another name for Lord Rama, is the temple's dedication. The temple, which is high up on a hill, offers a spectacular view of the valley.
The compound of the temple is huge. It extends to the top of the hillock. Raja Jagat Singh built the temple in the 17th century. It is a mixture of Himachali and pyramidal architecture.
#2 Bijli Mahadev Temple
Bijli Mahadev temple stands out among all other temples because of its tranquility and scenic beauty. It is 2460m above sea level and is 22 km from Kullu. The temple offers panoramic views of the Paravati and Kullu valleys from the higher ground.
The temple is of "Kash design" and Lord Shiva is represented as Shiva Lingam. You can reach the temple easily by crossing the Beas River. Legend has it that the temple is struck by lightning once every 12 years. The temple's name is derived from lightning. You will need to trek 3 km uphill to reach the temple.
#3 Jana Waterfall
This Jana Waterfall can be viewed on the way to Bijli's Temple. To reach Jana Waterfall, you will need to take a narrow forest path.
The meandering hilly route, which is surrounded by pine trees along the way, will make you feel extremely happy. It is surrounded by pine trees and apple orchards. This is a typical waterfall, where water flows out of the rocks unimaginably.
#4 Hanogi Mata temple
Hanogi (Saraswati) Mata is one of the most popular places to visit in the Kullu. This is the place not to miss, whether you're here for the tranquility and spiritual awakening or just to enjoy the beautiful surroundings.
It is easily accessible as it is located on Kullu's Manali-Mandi Highway number 3. This temple is a recent construction that showcases the best Himachal architecture for aficionados.
#5 Jagannathi Devi Temple
Jagannathi Temple or Bekhli Temple, at Bhekhli, is 10 km away from Kullu Bus Stand. It is one of the most famous temples in Kullu and offers stunning views of the valley and River Beas.
According to archeologists, the temple is approximately 1500 years old. It is dedicated to the Goddess Bhuvaneshwari, the fifth aspect of Goddess Shakti. Beautiful carvings depicting different avatars are found in the temple. The temple's idols bear a striking resemblance with the Rajasthani influence on the Gaddi tribe. This temple has a beautiful deity.
#6 Great Himalayan National Park
Lies just close to the Kullu. It is a UNESCO World Heritage Site. It covers an area of 1171 km². Here you can enjoy a variety of trekking adventures. There are many difficulty levels for both novice and expert trekkers. And undoubtedly you will be amazed by the trekking experience. This Great Himalayan Park offers many activities. Even better, you can enjoy the best camping experience in Kullu.
#7 Naggar Castle
Naggar Castle is 22 kilometers from Kullu Bus Stand. The castle overlooks the Kullu Valley. One can see distant snow-covered peaks and the charming Beas valley below. Also, you can see lush green hillsides with apple orchards.
The Naggar Castle is an impressive historical structure. It is built using a combination of European architecture and Himalayan architecture. The castle has a traditional architecture style; Kath Kuni, that uses stones and wooden beams.
It was the Royal residence and headquarter of the state until 1846 when the British took control of the entire Kangra and Kullu. Now, the castle is a hotel and Himachal Pradesh Tourism Development Corporation manages it.
#8 Gauri Shankar Temple
One of India's oldest temples, Gauri Shankar Temple, is in Naggar Village. It lies just below the Naggar Castle in Naggar Village. According to records, this temple dates back to the 12th Century AD. It is dedicated to Lord Shiva.
According to mythology, this temple is the last monument in Gurjara Pratihara traditions. It is therefore a protected monument. This temple features famous Shikhara architecture.
#9 Dechen Choekhor Mahavihara Monastery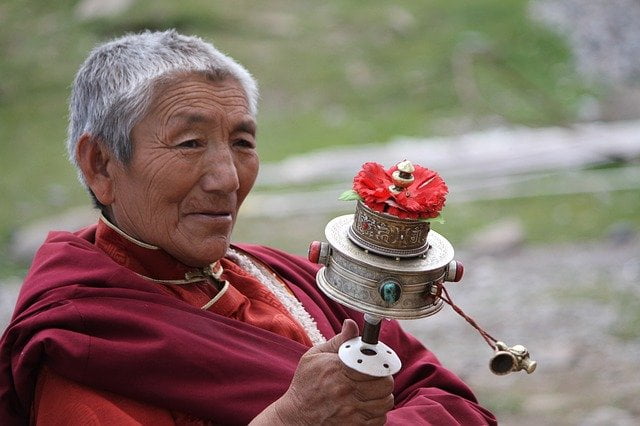 Dechen Choekhor Mahavihara Monastery is one of India's most popular monasteries. The monastery exudes divine energy. You will feel calm as soon as you enter the monastery.
The architecture of this monastery has sparked a lot of discussions. It reflects an Indo-Tibetan art fusion. In Kullu, the monastery has become a perfect example of mixed culture. The monastery's beautiful artwork and master craftsmanship will enchant you.
#10 Dhakpo Shedrupling Monastery
Dhakpo Shedrupling monastery or Kais Gompa is present in Kais of Kullu District. It is at an of distance 10 km from Kullu Bus Stand. The great Noble laureate, his Holiness Dalai Lama, inaugurated this monastery in May 2005. This monastery lies on the left bank of the Beas River. It is a popular destination due to the beautiful view of the surrounding valleys.
The monastery gives a magical look and is dedicated to Dalai Lama. It is a monastery that serves as both a boarding school for students and teaches Buddhist philosophy. This monastery has a large prayer hall and a large Buddha statue.
#11 Raison
Raison, which is 13 km from Kullu, at 1433m above sea level. It is a small group of villages along the banks of the River Beas. And has extensive camping grounds that are maintained by Himachal Pradesh Tourism.
Raison is notable for its camping spots, white-water river rafting, and other adventure activities. The natural beauty of Raison enhances by the presence of numerous apple orchards, fruit gardens with plums, apricot, and others.
#12 Shoja
Shoja, a charming village in the less-known Seraj valley, is located at a distance of 68 km from Kullu. The village is located close to the Great Himalayan National Park and offers breathtaking views of Tirthan below. During the summer, the iris blooms are at their peak and the valley turns blue.
Shoja is home to the following tourist attractions: Raghupur Fort, Waterfall Point, Tirthan Valley, and Sareolsar Lake. Furthermore, the Jalori Pass is well-known for its strong metal road linking Shoja to Shimla city and other nearby areas.
#13 Manikaran
Both Hindus and Sikhs revere Manikaran (which means jewel from the ear) in Sanskrit. The roaring Parvati river splits the town in two. These sulfur springs, which are hot enough for the rice to boil, are well-known for their curative properties.
Famous places here are Nanak Devji Gurudwara is a Sikh shrine and has bathing kunds that have curative properties. In the hot spring, people also prepare langar (a community meal). And sacred shrine of the Hindus is the Manikaran Temple at 1737m in the valley of river Parvati.
#14 Kasol
Kasol, a small village in Himachal, lies along the banks of the river Parvati. And is also known as "Amsterdam of India", is becoming a popular tourist attraction. It is the doorway to many backpackers, trekkers, and nature lovers. Kullu's Kasol is 38 km from Kullu. It is a great place to relax and enjoy the views of snow-clad mountains and pine trees.
Kasol's flea market sells many items. You can find trinkets and souvenirs as well as pendants and semi-precious stones to bring home for your family and friends.
These were the best and most famous places to visit in Kulu and hey! don't forget to explore the local market of Kullu especially during the night. The local market is beautiful, color and attractive. I still remember walking down towards the local market and those colorful roadside shops of Kullu 😛
Read FAQs