Himachal Pradesh is a fascinating location in the Indian Himalayas with abundant green grassland. It has vast valleys set against majestic snow-clad mountains, crystal clear lakes, flowing rivers, and spurting streams. The state is an enthralling Himalayan area in India. It is known as the "Magical Showcase of Nature's Splendor," and the places to visit in Himachal Pradesh are excellent to travel, enjoy, and rest.
About Himachal Pradesh
Himachal Pradesh, a state of undulating hills, is a popular destination for Indian tourists. The state is bounded to the north by Jammu and Kashmir, to the southeast by Uttarakhand, to the south by Haryana, and to the west by Punjab.
It has several beautiful hill stations that are especially pleasant in the summer. Its isolated highland retreats are perfect for fishermen, trekkers, and those looking for a quiet vacation. The state is additionally referred to as "Dev Bhoomi" or "Land of Gods and Goddess". Undoubtedly, has many important Hindu pilgrimage sites with prominent temples.
Himachal Pradesh is famous for adventure activities like paragliding, ice skating, rafting, and skiing, etc. It is also popular for its handicrafts. For example, carpets, Kullu shawls, Kangra designs, Chamba Rumals, stoles, embroidered grass footwear (Pullan chappal), silver and metal jewelry, etc. Himachali caps (symbol of Himachali's identity) of different color groups are also popular local artwork.
How To Reach Himachal Pradesh?
By Air: There are three main airports in the state of Himachal Pradesh. They are at Bhuntar, Gaggal, and Jubbarhatti. The state's aviation connections connect it to Delhi, Chandigarh, and other major Indian cities.
By Train: The state has a good rail network. Trains from major Indian cities halt in most of the cities of Himachal Pradesh. Usually, tourists prefer train routes only because of the mesmerizing view they offer during the journey.
By Road: The majority of the key locations in Himachal Pradesh connects well by road. Due to snowfall and landslides, a few routes are closed throughout the winter and monsoon seasons.
Best Time To Visit Himachal Pradesh
Summer (March-June): The best time to visit Himachal Pradesh is during summer. The air temperature remains 22-37 degrees Celsius. The weather will be inviting, and the land will be green with a bluish sky. Beautiful places of visit in Himachal Pradesh will be calling you out!
NOTE: Expect crowd as its peak second. And book your tickets and hotel early.
Monsoon (July-September): Though this is a good time to visit the state, I will advise you to avoid it due to the risk of landslides and eventually, roadblocks. The air temperature lies between 15-25 degrees Celsius. As mentioned, the place will be beautiful with fantasy-like weather.
NOTE:  Prepare well before heading there. Check the weather forecast and news frequently.
Winter (December-February): You can visit Himachal Pradesh during any season but the summer season is best. The white layer of snow looks charming on the land of the Himalayas. But expect roadblocks due to snow in some cities.
NOTE: Carry woolen clothes and be ready to bargain for good hotel deals as this is not the peak season.
Top Places Of Visit In Himachal Pradesh
The state of the Himalayas has many attractive valleys, inviting rivers, popular temples, and churches and it offers uncountable adventure activities.
The best and most famous places of visit in Himachal Pradesh mentioned in this travellingortraveling blog are Shimla, Dharamsala, Kullu, Manali, Dalhousie, Chamba, Spiti Valley, Palampur, Solan, and Kasauli.
#1 Shimla
Shimla is the capital of the mountain state of Himachal Pradesh. In fact, is one of northern India's most attractive hill stations. The capital city was formerly the British summer capital in India. Now is a lovely expansive town nestles among cool pine-clad hills with lots of vestiges of imperial elegance.
The city is an appealing destination throughout the year, with many tourists opting for a dramatic journey over loops and arches on the toy train from Kalka. Excellent views of the Himalayan iceberg, beautiful walk through oak, and rhododendron flowers, golf in Naldehra, and skiing in Kufri and Narkanda make Himachal Pradesh's Shimla an attractive year-round destination.
Check out the Top 15 Places for Visit in Shimla for more details!
#2 Dharamsala
The 'Scotland of India' lying on the spur of the Dhauladhar Ranges. Dharamshala is among those destinations that make Himachal Pradesh a must-see for holidaymakers. Its picturesque location in the Kangra Valley makes it simply irresistible for visitors.
Dharamsala is famous for its scenic beauty, calmness, and serenity. With thick pine and forests of deodar, numerous streams, scenic beauty, and a nearby snowline make Dharamshala an ideal holiday destination. It offers many religious places, museums and ancient towns to view and admire. Furthermore, is also home to a huge Tibetan community.
Check out the Top 15 Places to Visit in Dharamshala for more details!
#3 Kullu
Kulu was originally known as Kulanthpitha, or "the end of the livable world". Since beyond its borders rose the beautiful Greater Himalayas and the 'Silver Valley' by the river Beas. Only after independence did Kulu become accessible to the outside world. The lengthy era of solitude has accentuated the area's simplicity and preserved its traditional beauty.
In fact, the first location that comes to mind when we think of Himachal Pradesh is Kullu Valley. It is famous for its historic temples, apple orchards, and Dusherra festival. And is additionally well-known for its handicrafts, woolen textiles, and embroidered caps and shawls.
Check out the Top 14 Places to Visit in Kullu for more details!
#4 Manali
Manali is a beautiful town surrounded by woods. The word Manali means "home" in Sanskrit. Actually, tradition has it that Saint Manu stepped out of his boat in Manali to rebuild human existence after the great floods destroyed the globe.
Manali features towering snow-capped mountains, dense woods, meadows of wildflowers, fruit-laden orchards, and the Beas river winding through it. Its breathtaking scenery is perfect for hiking, trekking, skiing, paragliding, jeep safaris, and other adventure activities.
The Rohtang pass is just 51 kilometers from Manali. And offers stunning views of large glaciers and barren brown mountains coated with white snow in the highest reaches.
Check out the Top 10 Places in Manali to Visit for more details!
#5 Dalhousie
Dalhousie is located 2039 meters above sea level. It spans five hills: Kathlog, Potreyn, Tehra, Bakrota, and Balun. The British purchased the region from the Raja of Chamba and named it after Lord Dalhousie, then Viceroy of India.
This still modest hill station preserves much of its old-world beauty. And is surrounded by various vegetation such as pines, deodars, oaks, and blooming rhododendron. Its magnificent woodland paths provide views of forested hills, waterfalls, springs, and rivulets. It also offers a breathtaking panorama of the Chamba Valley and the huge Dhauladhar range.
Check out the Top 12 Places to Visit in Dalhousie for more details!
#6 Chamba
Chamba lies on the banks of the Ravi River and is in a valley at an elevation of 926 meters. This region was the princely realm of Chamba, the oldest ancient state in northern India, for about 1000 years. Shikara temples are well-known throughout the region.
Temple architecture includes the Lakshmi Narayan temple, Manimahesh, Hari rai temple, and Bajreshwari Devi temples, among others. These temples attract a large number of devotees who travel to this lovely town on pilgrimage.
Chamba is particularly notable for its traditional crafts, which its women are creating for over 1000 years. The seductive, intricately adorned Chamba shawls may also be found here.
Check out the Top 10 Places To Visit In Chamba for more details!
#7 Spiti valley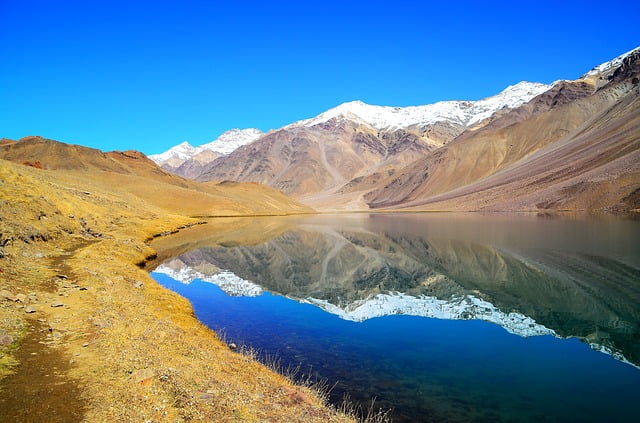 Himachal Pradesh's Spiti lies in Lahaul and Spiti district. Spiti, which translates as "middle country," is a high-altitude chilly desert with many monasteries. Indian and Tibetan civilizations have coexisted in this foreboding place. It receives relatively little rain and plenty of snow. As it is in the rain shadow of Zanskar's harsh mountain ranges.
The entire valley appears to have been painted in purple, pink, and sunset colors. Spiti's austere beauty enhances by the deep canyons formed by snow-fed streams. The valley lies between the Zanskar and Great Himalayan mountains. The Kunzum La, which literally means "meeting place for ibex" (a kind of mountain goat), connects Lahaul and Spiti.
#8 Palampur
Palampur gets its name from the word "pulum", which means "a lot of water" in local vernacular. Water is responsible for much of the character of this valley. Countless streams and brooks crisscross the terrain, encircling tea gardens and rice farms.
When the tea bush was introduced to the area in the nineteenth century, Palampur became a hub for growers. Kangra tea, with its headquarters in Palampur, has gained international renown since then.
#9 Solan
Solan is a valley in the alpine state of Himachal Pradesh. It gets its name from Shoolini Devi, a local deity whose temple is located in Solan Gaon or a hamlet. Every year, the temple hosts a famous Shoolini fair. The town was founded in ancient times and was the capital of the former Bhagat state for many years.
Aside from temples and churches, Solan boasts a variety of cultural and leisure institutions. It also includes the lovely Mohan and Jawahar parks. The Durga Club, Central State Library, lower and higher bazaars, and Mall Road are all worth seeing.
#10 Kasauli
Kasauli is a little hill station in the Solan district. It is at an elevation of 1927 mt above sea level. As a matter of fact, it was a cantonment sanatorium for more than 20 years, after the British had based themselves at Shimla. Its major draw is its general cleanliness and ease of access. The tiny twisting roads snake up and down the mountain, providing some spectacular views.
Basically, Himachal Pradesh is a place of Himalayas and offers nothing but breathtaking valleys and charming panorama. There are numerous places of visit in Himachal Pradesh and it was nearly impossible to choose the top 10 out of them. According to my experience, these were the best places out of all of them. And I wish you a beautiful and refreshing vacation to this mountain state 😉
Read FAQs