On the banks of the River Ravi lies the Chamba, an unspoiled natural charm and traditional town. Chamba valley settles at an altitude of 926 meters. The architecture of Chamba's buildings and the best places to visit in Chamba reflects the aura of its former kings. Chamba district is particularly well-known for its regional festivities. And its admirable handicrafts, chappals, and textiles are sold around the world.
About Himachal Pradesh's Chamba
The Chamba town is famous for its medieval temples and the Chaugan, a public promenade.  This region was the princely realm of Chamba (the oldest ancient state in North India) for about 1000 years. Himachal's Chamba, the Valley of Milk and Honey, is additionally famous for its streams, lakes, and meadows. This valley's picturesque beauty is unrivaled.
Furthermore, Shikara temples are well-known throughout the region. Temple architecture includes the Lakshmi Narayan, Manimahesh, Harirai, and Bajreshwari Devi temples. These temples attract a large number of devotees on pilgrimage.
Chamba is particularly well-known for its traditional crafts, which have been carried out by its women for over 1000 years. It's popular for its woodcrafts and hand-woven fabrics like rumal (handkerchief). The seductive, intricately adorned Chamba shawls may also be found here. Another major draw is Chamba's Pahari art painting.
How to Reach Chamba?
By Air: The closest airport is in Pathankot, Punjab which is 120 km. There are numerous additional airports in nearby cities, including Amritsar (220 km) and Kangra (172 km).
By Train: Pathankot, about 120 kilometers from Chamba, is the nearest railway station. You can hire buses and taxis from Pathankot to Chamba.
By Road: The road network in Himachal Pradesh is rather excellent. Roads connect Chamba to all of the main cities, towns, and villages.
HRTC (Himachal Road Transport Corporation) operates frequent buses inside the state and from the surrounding states.
Best Time to Visit Chamba
Summer (March-June): The best time to visit Chamba is during the warm season. The air temperature will be between 15-38 degrees Celsius. Days are usually warmer and the temperature gets really cool during the nights. The weather will be inviting, pleasant and perfect for exploration 😉
NOTE: Pack some woolen clothes to wear at night for the safe side.
Monsoon (July-September): Rain showers of Chamba are quite heavy. One must avoid monsoon due to the high risk of landslides and roadblocks. I know, the place gets really beautiful, clean, and fresh but I will not recommend this time for traveling.
Winter (December-February): Though this is not a bad time to visit, Chamba valley is famous for its greenery and nature. So I will advise you to rather avoid winter and look forward to the summer. But undoubtedly, this is a good time for snow lovers.
You will find a lot of snow and the temperature usually remains below 0 degrees Celsius during peak winter. Expect occasional snowfall which may lead to roadblocks.
NOTE: Carry woolen clothes, and all essential winter accessories. You may end up saving your money during winter as this is not the peak season.
Top 10 Places to Visit in Chamba
Chamba Valley, a town with natural beauty offers many best places like ancient temples, charming panoramic views, refreshing streams, peaceful meadows, and lakes, etc.
The most popular and top places to visit in Chamba mentions in this travellingortraveling blog are Chaugan, Chamundi Devi Temple, Lakshmi Narayan Temple, Shri Hari Rai Temple, Sui Mata Temple, Bhuri Singh Museum, Akhand Chandi Palace, Rang Mahal, Bharmour, and Manimahesh Temple.
#1 Chaugan
There are many points of interest in Chamba, India. Chaugan, which is also the ultimate shopping destination, is one of them. The famous Kangra tea, Kangra paintings, and all things organic are some of the reasons Chamba is so well-known.
Chaugan is the area of the town that hosts all major activities in Chamba. You can find beautiful souvenirs such as the famous Chamba slippers, precious stones, and metal artifacts in many shops.
#2 Chamundi Devi Temple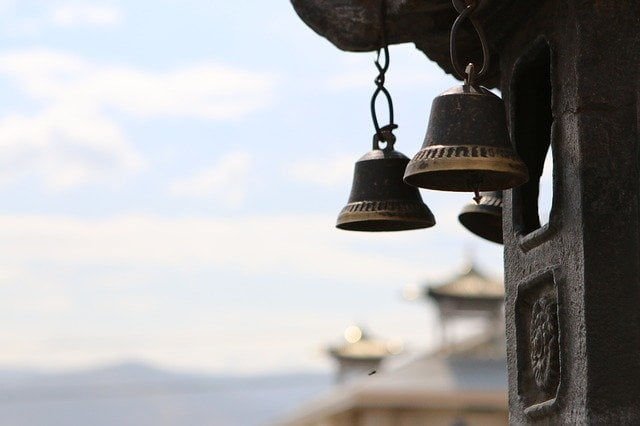 Chamundi Devi Temple nestles among the snow-capped peaks and on the banks of the River, is revered by both locals and pilgrims. The 300-year-old shrine, dedicated to Goddess Kali, is Chamba's sole wooden temple with a gabled roof.
Its breathtaking surroundings make it one of the most popular locations to visit in Chamba. The temple also has a tank where visitors prefer taking a holy plunge. Within the temple grounds is the handicraft area where you may purchase the famous Kangra paintings, Kangra Tea, and wooden items.
#3 Lakshmi Narayan Temple
The Lakshmi Narayan Temple, constructed around the 11th century by Raja Sahil Verma, is one of Chamba's oldest and biggest temples. The temple complex has about six temples that devote Lord Shiva and Vishnu. The primary idol of Lord Vishnu is crafted of precious marble that was formerly unearthed in the Vindhya mountains.
Aside from the six main temples, the complex contains three other temples. These are the Shiva Temple of Chandragupta, Radha Krishna, and Gauri Shankar Temple. Your tour to Chamba would be incomplete if you did not pay a visit to this magnificent temple.
#4 Shri Hari Rai Temple
Shri Hari Rai Temple is a historically significant Chamba temple. The temple is positioned on the northwest corner of the main Chaugan, which serves as the town's ceremonial entrance. This temple is designed in the shikhara style and is made of stone.
Many tourists come here to worship Lord Vishnu, who has three faces; human, lion, and boar, made of eight different materials. Finger rings, armlets, mukut, necklaces, and kundals adorn the primary deity.
#5 Sui Mata Temple
The temple settles atop Shah Madar Hill in the Saho village, Chamba district. Sui Mata Temple commemorates Queen Sui's sacrifice (wife of King Sahil Varman). It's adorned with lovely artwork depicting Sui's life.
Every year, a fair is held at this location, beginning on March 15th and lasting until April 1st. Married ladies and girls go to this location with offerings to honor the magnificent queen. As a result, a visit to this holy place will offer you a wealth of information about the diverse cultures and civilizations of Chamba.
#6 Bhuri Singh Museum
Bhuri Singh Museum is a museum dedicated to Bhuri Singh. This museum, which opened in 1908, is one of the most popular places to visit in Chamba. In fact, it is well-known across Himachal Pradesh.
It houses about 8,500 ancient artifacts, including costumes, weaponry, and royal jewels. Furthermore, it has Basohli artwork, unique Sharda script, and Guler-Kangra paintings, etc. In conclusion, if you want to learn about Chamba's art, culture, and rich history, Bhuri Singh Museum is a must-visit place.
#7 Akhand Chandi Palace
Akhand Chandi Palace exemplifies Mughal lavishness and British aesthetic architecture. It is a superb combination of western and eastern designs, made between 1748 and 1764. While visiting the Akhand Chandi Palace, you may enjoy a magnificent view of other lovely tourist attractions. Such as Chamunda Devi, Sui Mata, Lakshmi Narayan Temple, and Rang Mahal, etc.
One of the palace's most appealing features is that it has the same unique green roof as the other residences in Chamba, as well as a conical roof to shed snow. The palace's windows are finely constructed and white-painted. Until 1957, the palace belonged to the royal family. It was then donated to the Himachal government, which converted it into a college and district library.
#8 Rang Mahal
The Himachal Emporium is currently in the Rang Mahal or ancient palace. The ancient palace is a fascinating blend of colonial and Saracenic architectural elements. There isn't much information on the palace, however, you may buy famous woolen and other fabrics.
Including the Chamba shawls as well as rumals. With beautiful silk embroidery, a traditional skill practiced by Chamba women for almost 1000 years. Radha and Krishna, and Gaddi shepherds, are popular figures depicted on the fabric.
#9 Bharmour
Bharmour, Himachal Pradesh's best-kept secret, is a charming small hill town surrounded by lush green landscape and snow-capped peaks. The hill hamlet, formerly known as Brahmpura, is 64 km from Chamba. Aside from its stunning natural beauty, it is also notable for its historic temples. And in fact, some of these temples date back to the 10th century.
#10 Manimahesh Temple
The Manimahesh Lake is in the Budhil valley, 26 km from Bharmour, and 60 km from Chamba valley. Undoubtedly is a popular pilgrimage site in Himachal Pradesh. After Hadsar, pilgrims must complete the 13-kilometer Manimahesh trek. The lake is located at an elevation of 13,000 feet, near the base of the Kailash mountain (18,564 ft).
On Kailash mountain, a rock formation shaped like a Shivling is thought to represent Lord Shiva's appearance. Locals refer to the snowfield at the mountain's foot as Shiva's Chaugan. Every year, in the month of Bhadon (August-September), a fair happens at this lake. And draws hundreds of pilgrims who come to bathe in the holy water.
I believe Himachal Pradesh's Chamba is a raw beauty and that's the best thing about it. These top places to visit in Chamba showcases this trait of town clearly. Chamba district offers charm, peace, and a traditional vibe in a modern way, undoubtedly, I loved my visit to this place. Explore more on Reddit and hoping that you will have a great vacation as well 😉
Head to your next destination, check out Top 12 Places To Visit In Dalhousie for more details!
Read FAQs