Are you a lover of Leh, Ladakh? Yes? Then go and explore the places to visit in Spiti Valley! Leh, Ladakh, and Spiti Valley are merely twins in weather and landscapes. The Spiti Valley, a chilly desert dotted with colorful monasteries, needs no introduction. Both Indian and Tibetan cultures coexist here and never fail to please visitors.
The tranquility, sunset hues, and deep canyons formed by snow-fed streams contribute to Spiti's austere beauty. In a nutshell, Spiti is a location for breathtaking scenery, exciting adventure activities, and mysterious spiritual experiences.
About Himachal Pradesh's Spiti
Spiti, Spiti, Spiti! What exactly does Spiti mean? The name "Spiti" means "The middle land," as it settles between Tibet and India. Spiti Valley (locally known as Piti) lies at a high altitude in Himachal Pradesh, India. The Kunzum La (meaning "meeting place for ibex" (a kind of mountain goat)) links Lahaul Valley and Spiti Valley.
Due to its location in the rain shadow of the rugged Zaskar mountain range, it receives very little rain and a lot of snow. That's why the terrain of the Spiti section of the Lahaul Spiti district is harsher and consequently more difficult to cross. Himachal Pradesh's Spiti has a highly intrusive culture centered on its various monasteries, including Dhankar, Ki, Tabo, Hikkim, Giu, etc.
The beauty of the foreboding Spiti is on display for just 4-5 months of the year; the rest of the year, it is concealed behind snow. Locals typically spend their winters spinning and weaving layers of fabric and woolen. Spiti invites climbers and trekkers, as well as intellectuals, to come and discover her untouched land.
How to Reach Spiti Valley?
By Air: Chandigarh is the closest international airport to Spiti (495 km). Bhuntar Airport (near Kullu) is the nearest airport, 245 km distant. One must go to Manali town from Bhuntar and take a bus or taxi to Spiti Valley. 
By Train: Jogindernagar Railway Station (360 km) and Shimla Railway Station (416 km) are the closest railway stations. The Kalka Railway Station, which provides excellent connections across India, is 485 km away.
By Road: You can reach Spiti by two routes. Sumdo, Kinnaur District, is the direct entry into Spiti Valley. Whereas Manali, Kullu District, leads to the Lahaul Valley and Kunzum La is a getaway to Spiti.
Best Time to Visit Spiti Valley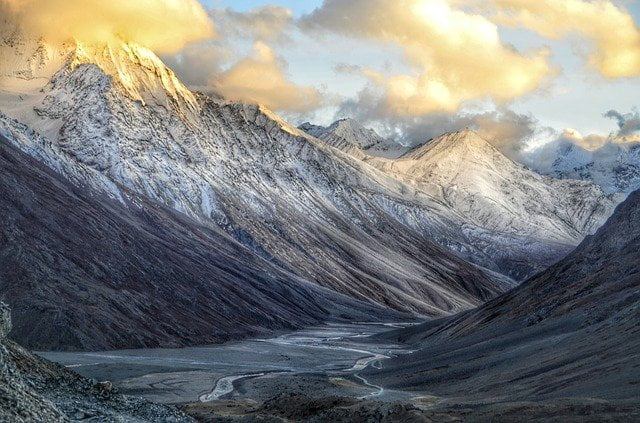 Summer (April-June): The best time to visit Spiti is during the summer. The temperature scales from 8 to 15 degrees Celsius. The weather will be clear and cool, ideal for outdoor exploration and adventure. Spiti's cold deserts will fascinate you.
Monsoon (July-October): The monsoon season is a good time to explore Spiti Valley. In Spiti, there is little to no rain. But the route between Kinnaur and Manali town is prone to landslides. So, I recommend that you avoid the monsoon season.
NOTE: The monsoon season is another excellent time to explore Spiti. On the other hand, the roads leading there are prone to landslides. So, before you depart, make sure you're prepared.
Winter (November-March): In the winter, the weather is harsh and extreme, as it is in India's Ladakh. But it is not a suitable time to go to Lahaul-Spiti. In fact, the location will be inaccessible due to regular blockages. The whole Lahaul and Spiti region gets covered with snow.
Top 15 Places to Visit in Spiti Valley
Himachal Pradesh's Spiti Valley is famous for breathtaking landscapes, picture-perfect rocky mountains, adventure activities (like trekking, hiking, etc), religious places like colorful monasteries and statues, etc.
The best and most stunning places to visit in Spiti Valley mentioned in this travellingortraveling blog are Kunzum Pass, Chandra Taal, Chicham Bridge, Kibber, Key Monastery, Langza, Sakya Tangyud Monastery or Kaza Monastery, Hikkim Post Office, Komic Village, Komic Monastery or Tangyud Monastery, Pin Valley National Park, Kungri Monastery, Dhankar Village, Sopona Lake, and Tabo Gompa.
#1 Kunzum Pass
The Kunzum Pass is one of the unique places to visit in Spiti Valley. This mountain pass serves as an entrance to the magnificent Spiti Valley through Kullu and Lahul. Kunzum Pass, at 15,060 feet, in the Himalayan Kunzum Range, is a wonderful sight to view.
The pass's fifteen hairpin twists are one of its most exhilarating features. Though the bends give a fantastic view of the motorways, they also test the tourists' driving skills. It is one of India's highest motorable crossings. Thrill-seeking vehicles and motorcyclists frequently visit here.
#2 Chandra Taal
Tso Chigma or Chandra Taal or Chandra Tal must be seen to be believed. It lies about 4200 meters above sea level, which is breathtaking. This lake is an escape from the hustle and bustle of city life. Chandra Tal is quickly becoming one of the most popular tourist places to visit in Lahaul Valley. This lovely lake is near the Chandra river on the Samudra Tapu plateau.
Chandra Lake, or trekker's paradise, is frequently recognized as the Himalayas' most enchanting lake. The lake is the perfect place for Instagram-worthy images, with its compelling backdrop of gorgeous mountains and meadows covered with beautiful wildflowers. The crescent shape of the lake gave it its name. There's no better place to start than Chandratal if you're looking for a perfect mix of action and leisure. The road to Chandratal Lake takes you via perilous Batal paths that will make your heart race.
#3 Chicham Bridge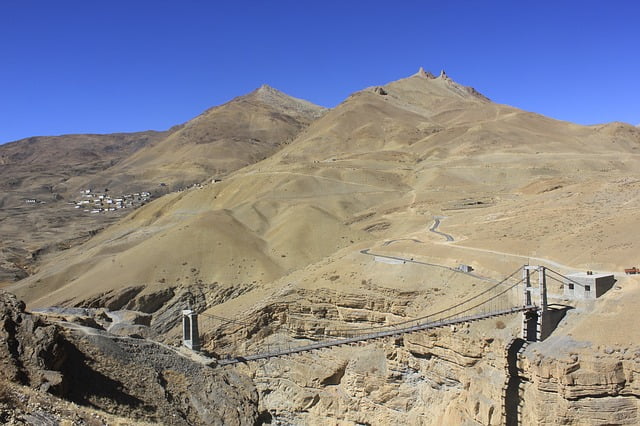 Chicham Bridge is a must-see for travelers looking for a memorable place to remember their trip to Spiti Valley. The bridge was inaugurated in 2017 and is Asia's tallest suspension bridge, standing at 13595 feet. The 113.83-meter-long bridge spans the 1000-foot-deep Samba Lamba Nallah or Parilungbi Canyon.
The bridge connects the villages; Kibber and Chicham. It shortens the trip between Kibber and Losar by approximately 40 kilometers. Because of its height and surrounding scenery, the area is well-known for drawing visitors and bicyclists seeking to take beautiful photos.
#4 Kibber 
To say Kibber is lovely will be an understatement. Kibber or Kyibar at 4270 meters is a charming tiny village. It is the world's highest motorable village and is famous for the Kibber Monastery and the Kibber Wildlife Sanctuary. This small, remote town has only 80 houses and about 366 people.
Stargazers and photographers go to Kibber for the unrivaled, beautiful vista of the Milky Way. Additionally, Kibber draws a significant number of visitors for hiking and climbing each year. Furthermore, it's also a popular camping spot in the summer.
#5 Key Monastery
While Himachal Pradesh is home to several monasteries, this majestic building is not only the largest but also the oldest. At 4,166 meters, the Key or Ki or Kee Gompa is a must-see attraction in Spiti Valley. Dromtön (Brom-ston, 1004 or 1005-1064 CE), a student of Atisha, a prominent 11th-century teacher, is supposed to have established the beautiful Key Monastery.
Beautiful paintings, murals, manuscripts, and wind instruments adorn this magnificent specimen of monastery architecture. This 1000-year-old monastery's superb setting and snow-covered towns, and long winding roads will provide you with a unique experience.
#6 Langza
Langza village, at 440 meters, is one of the most intriguing places to visit in Spiti Valley. This lovely village has many tourist attractions such as prehistoric structures and historical monasteries. Langza is notable for manufacturing vessels of different shapes, sizes, and crafts like shawls and carpets.
Langza is famous for two things: the gigantic statue of the Buddha overlooking the gorgeous valley and fossils. The night vista of the starry sky and Milky Way against the background of the Buddha statue is something you should not miss.
#7 Sakya Tangyud Monastery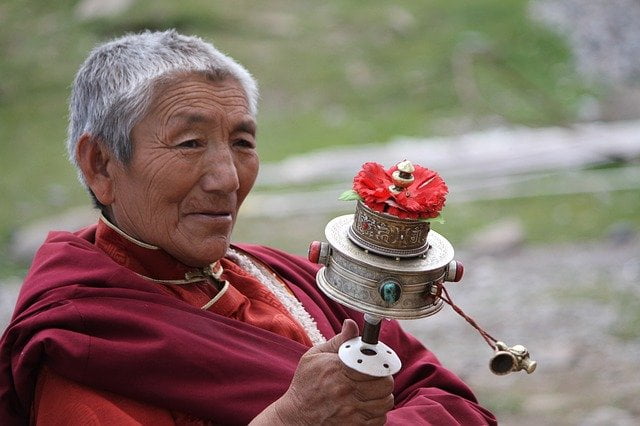 Sakya Tangyud Monastery or Kaza Monastery is one of Spiti's most well popular attractions. It is at an elevation of 4520 meters in the Kaza, Spiti Valley. The monastery is situated on the fringes of the Kibber Wildlife Sanctuary and provides some of the valley's most breathtaking vistas. The monastery is of vibrant colors and has red pillars. Kaza Gompa is one of Spiti Valley's only two Sakya sect monasteries.
#8 Hikkim Post Office
For those looking for offbeat locations to see, this is the one! The Hikkim's 4440 meters high World's Highest Post Office is a sight to behold. Roads connect it to several cities in Himachal Pradesh. Even though snowfall might disrupt the post office's operations, the committed postmaster sometimes distributes mail on foot.
It gives guests a once-in-a-lifetime opportunity to mail letters to loved ones from the highest post office. With snow-capped peaks and the enchanting Spiti Valley, the area also offers one of the most beautiful postal routes.
#9 Komic Village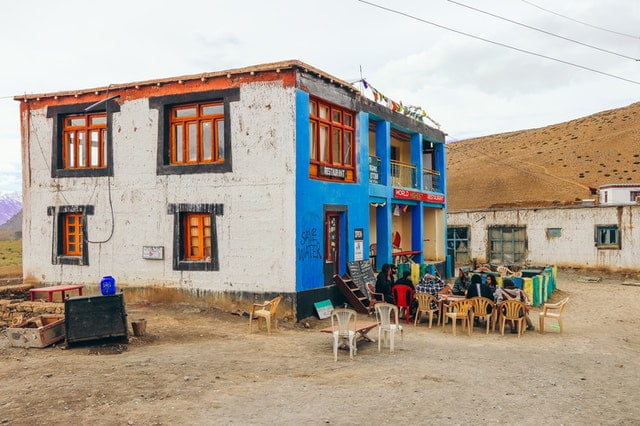 The Komic is a lovely village ideal for a relaxing vacation away from the city chaos. Komic is 18 km from Kaza and is the world's highest village connected by a motorable road. To say this rural road is bizarre would be an understatement.
Winding routes, dangerous cliffs, steep upward climbs, and bumpy roads may be a novice's nightmare, but there are plenty of breathtaking vistas to be experienced if you have the guts and confidence. So pack your bags, find fossils there and drink the local buttery tea. 
#10 Tangyud Monastery 
Tangyud Monastery or Komic Monastery lies in Komic. It is at 4,520 meters (14,830 feet) and 2 km southeast of Hikkim. It is built like a fort on the edge of a deep canyon. The walls make it look taller due to vertical red ochre and white stripes.
Tangyud Monastery, which overlooks the town of Kaza, is one of India's highest-altitude gompas. In Spiti, there are only two Sakya sect monasteries. Locals consider it ancient, but scientific study indicates that it was constructed in the early 14th century.
#11 Pin Valley National Park
This is India's highest cold valley National Park. Pin Valley National Park was built to protect the state's unique natural flora and wildlife. It is called for the beautiful Pin River, and it serves as a link between the Lahul and Spiti Valleys.
The national park is home to Himachal's vicious predators, the snow leopards, and prey, Asiatic ibex. It offers a backdrop of rugged, bumpy snow-covered mountain peaks. If you appreciate the quietness and tranquillity of nature, this is among the must-see places to visit in Spiti Valley.
#12 Kungri Monastery
Kungri Monastery, the second oldest Gompa (after the key monastery) in the Lahaul and Spiti district, is one of the top locations in Spiti. This 14th century lies in Pin. The monastery belongs to the Nyingmapa order of Buddhism (the oldest order in Tibetan Buddhism). The monastery is notable for its collection of silk paintings of various Buddhist deities, holy Tibetan writings, and massive sculptures symbolizing the Tantric worship of the period.
The traditional performance of 'Devil Dance,' which takes place in July every year, and the sword dance, which represents an essential feature of Nyingmapa history, are two of Kungri Monastery's key attractions. Kungri Monastery is a cultural gem that attracts many visitors for tourism, pilgrimage, and learning about Buddhism.
#13 Dhankar Village
The traditional capital of the Spiti Valley Kingdom was no other than Dhankar. It lies between the Himachal Pradesh towns of Tabo and Kaza at an elevation of 3,894 meters (12,774 feet) above sea level. Dhankar is one of the most popular places to visit in Spiti Valley. Spiti's Dhankar is famous for many tourist spots like Dhankar Lake, Dhankar Monastery, Dhankar Palace or Fort, etc. 
Dhankar Lake nestles atop a tiny hill at 4100 meters above sea level. The lake is located after the famed Dhankar Lake trek, noted for its hazardous pathways, rugged snow-capped mountains, and breathtaking views. Furthermore, Dhankar Monastery is one of the world's hundred most endangered monuments was founded approximately 1000 years ago. The Vairochana statue, which comprises four Buddha statues in the state of meditation, is one of the monastery's main attractions. 
#14 Sopona Lake
Sopona Lake is a famous destination for adventure seekers in Spiti. The lake forms by melting glaciers and is a seasonal destination. Sopona Lake offers views of the valley and the nearby Manirang Himalayan range. Trekking to Manirang Pass, located at an elevation of 6593 meters, is a popular tourist activity here.
The trek is moderate in difficulty and brings you to some of the most beautiful locations in Spiti Valley. An excellent way to experience this 3 to 3.5 hours trek is to have the company of a local from Mane village, which costs around 800-1000 and provides an amusing tour around the lake.
#15 Tabo Gompa
Tabo Monastery is one of Spiti Valley's most amazing places to visit. The temple built a millennium ago (996 A.D.) is a one-of-a-kind synthesis of history, culture, and natural beauty. The monastery seems like a refuge from the roughness of the barbaric rocky rocks around it in the freezing desolate deserts of Tabo valley.
This historic beauty, also known as "Ajanta of the Himalayas," is 3050 meters above sea level. Unlike the other monasteries constructed on hills, the Tabo monastery settled at the valley's bottom, in the stony desert of Tabo Valley. The monastery's walls are adorned with exquisite paintings, sculptures, frescoes, and murals that give full credit to the moniker "Ajanta of Himalayas."
You can take control of your photography-obsessed soul by snapping away at this stunning Spiti valley. The magnificent Glaciers, which are blanketed in pure silvery snow, the gorgeous mountain valleys, the turquoise waters of the Spiti River, and the rocky hills are all among the top places to visit in Spiti Valley. Additionally, if you like bikes and mountains, you should go there at least once. It's something you shouldn't pass at all!
Read FAQs