The most romantic and beautiful city, the city of dawn, and the city of lakes is none other than Rajasthan's Udaipur. On one side, huge Aravalli Mountains, and on the other hand, three lakes surround this city. These mountains and lakes make it no less than a picture-perfect and beautiful tourist attraction. Undoubtedly, you will find the most beautiful places to visit in Udaipur lined up and calling you in ;P
About Rajasthan's Udaipur
In the harsh terrain of the hills and ravines of Aravalis, flourishes the city of lakes, Udaipur. Actually, Udaipur City is around a series of lakes, namely, Pichola Lake, Fatehsagar Lake, and Udai Sagar Lake. These shimmering blue water lakes evoke the spirit of a bygone age making it a much more exciting place.
Udaipur was founded in 1568 by Maharana Udai Singh II during the legendary reign of Maharana Pratap. They found the city on the suggestion of a guru. As the last of the Mewar kingdom's several capitals fell into disrepair. Despite its magical reputation, this city has a colorful history that includes stories of courage and grandeur. The city of Udaipur is known as the "jewel of Mewar," a kingdom that was governed for 1200 years by the Sisodia Dynasty.
The recognition of Udaipur is spread far and wide because of its captivating lakes, enduring palaces, beautifully carved temples, and other ancient sites. You can also discover the dainty handicrafts in the Mewar school of miniature paintings. Furthermore, one must not miss the vibrant and calling Udaipur Market streets. Markets are especially famous for sarees, jewelry, couch/chair/pillow covers, sculptures and paintings, and wall hangings, etc.
Udaipur is often considered to be extremely safe. But during the evening, stay away from poorly lit places to keep your safety in mind.
In short, No! Udaipur is not a hill station. The only hill station in Rajasthan is Mount Abu. Udaipur city lies on the lower slopes of Aravalli Hills. It is famous for its lakes and palaces. Furthermore, the city's relaxing vibe, beautiful greenery, and top sights make it a popular tourist destination in India's Rajasthan.
How to Reach Udaipur?
By Air: Udaipur Airport; Maharana Pratap Airport in Dabok, is 22 km away from the city center. Several flights by Indian Airlines link Udaipur with Pink City (Jaipur) and other major cities.
By Train: Udaipur is well-served by trains from major cities like Jaipur, Delhi, and Mumbai, etc.
By Road: A wide network of bus services link Udaipur with several destinations like Agra, Ahmedabad, Jaipur, etc.
Best Time to Visit Udaipur
Summer (March-June): Udaipur's summer is non inviting, warm and unfavorable for traveling. The air temperature remains 28-38 degrees Celsius (mostly). You won't be able to make the best out of your trip due to the hot weather.
But the plus point of traveling during this time is the Mewar festival. Udaipur welcomes the Mewar festival with a lot of songs and dances. Moreover, summer will be good on the pocket and you may escape crowd too 😉
NOTE: Although one must avoid traveling during summer, prepare well if you plan to travel. Carry lightweight clothes, sunglasses, cap, and other necessary things.
Monsoon (July-October): Monsoon will give an escape from the summer's heat but Udaipur receives moderate to high rain showers. So the humidity will be high and won't let you go for exploration. You may have to cancel plans. And I will advise not to travel during monsoon season.
But as everything has a positive side to it, the monsoon of Udaipur has it too. You will get the best hotel deals, and some tourist places to visit in Udaipur will be green, beautiful, and inviting.
Winter (November-February): The best time to visit Udaipur is in winter. This is the perfect time for sightseeing and exploration. The air temperature will between 11-29 degrees Celsius. The weather will be cool (but toleratable), a little hot during the day, and chill during the nights.
Furthermore, Winter is not only perfect for sightseeing but Shilpgram Crafts Fair also happens in winter. Here comes the "but" ;P, this being a peak season will be bad on pockets, and the city will be crowded.
NOTE: Book tickets and hotel early as this is a popular time. Pack some woolen clothes for the safe side (especially for nights).
Top 20 Places to Visit in Udaipur
Udaipur being a city of lakes and palaces offers nothing but shimmering lakes, beautifully designed and constructed palaces, museums, historical monuments, huge and green mountains, and last but not least breathtaking views. Actually, tourists interested in history, culture, and architecture will love Udaipur.
The most popular and top places to visit in Udaipur mentioned in this travellingortraveling blog are Lake Pichola, Lake Palace, Jag Mandir, Dudh Talai, City Palace, Bangore ki Haveli, Jagdish Temple, Gulab Bagh and Zoo, Vintage Car Museum, Ahar Museum, Fateh Sagar Lake, Maharana Pratap Memorial, Bharatiya Lok Kala Museum, Saheliyon-ki-Bari, Shilpgram, Sajjangarh Palace, Sajjangarh Wildlife Sanctuary, Bahubali Hills, Ekling Ji Temple, and Jaishmand Lake.
#1 Lake Pichola
One of the most essential places to visit in Udaipur is Lake Pichola. Udaipur is known as the "City of Lakes" because of Lake Pichola. This lake, which is 3 miles long and 2 miles wide and was built in 1362. It is an important element of Udaipur and by far its greatest feature.
The unique thing about the lake is that depending on the time of day, the lake takes on a completely different character. The lake and castles are calm in the morning. Tourist boats abound on the lake, and people snapping pictures line the shoreline. But as the night falls, the palaces around the lake light up. There are no boats, no birds, and nothing to see but the illuminated palaces that stand proudly surrounding the lake.
#2 Lake Palace
In 1959, Maharana Bhagwat Singh of Udaipur began work on the Lake Palace's repair and rebuilding. The Maharana saw the enormous potential for Udaipur's beautiful Lake Palace to lure visitors with its picturesque surroundings. The beautiful glass inlay panels were restored as a top priority during the palace's renovation.
With the Maharana's help, the Taj Hotel Group was able to take over the administration of Lake Palace, an important but essential choice. This world-famous hotel draws visitors from all around the globe today.
#3 Jag Mandir
Jag Mandir or Lake Garden Palace floats on the island of Lake Pichola. The three Maharanas of Mewar are credited with the building of this tower. Maharana Amar Singh began construction of this palace in 1551, which was continued by Maharana Karan Singh and finished by Maharana Jagat Singh. As a result, it is known as Jagat Mandir or Jag Mandir.
This site is notable for hosting parties and wedding festivities. Additionally, it serves as a summer resort and pleasure area for the royal family of Mewar. The building's architecture exhibits Mughal and Rajput styles. The palace is made of sandstone and black marble, with an Islamic crescent affixed to the structure's dome. Gul Mahal, Darikhana, Garden Courtyard, Bara Patharon ka Mahal, Zenana Mahal, and Kunwar Pada ka Mahal are all present here.
#4 Dudh Talai
Dudh Talai is a tiny pond, rock garden surrounds the pond which also has a Music fountain in it. This garden is close enough to the city center that a quick visit of 10 to 15 minutes is doable. There is a lot to like about this garden, but the greatest part is the expansive view that can be enjoyed from here.
You may also go on camel and horseback rides or boating on the pond. The ropeway that connects the site to the Karni Mata Temple is one of its highlights. Photography enthusiasts will like this garden's position.
#5 City Palace
Udaipur's City Palace, the magnificent palace, perched above a hill, seems pure white and regal. Balconies, turrets, and cupolas adorn the palace's exterior, and the top terraces provide stunning views of the lake and the city. Battlements encircle it, and the Tripolia gate, which was constructed in 1725 and has three arches, sits at the entrance.
The palace's core has been turned into a museum. The Mor Chowk, with its stunning mosaics of peacocks, is one of its highlights. Both the Manak Mahal and the Krishna Vilas include impressive collections of glass and mirror craftsmanship. A lovely center garden may be seen in the Bari Mahal. The Suraj Gokhada Monument is another eye-catching structure (the balcony of the sun). During these trying times, the Maharanas of Mewar appeared in front of the people to re-establish trust. Chini Chitrashala's blue and white ceramics are stunning.
#6 Bangore ki haveli
Udaipur's Bangore ki Haveli palace is on the shores of Lake Pichola and is a popular tourist destination. Even though it was constructed in the 1800s, the palace still exudes the majesty and dignity of past kings. There are over a hundred rooms in the museum, and there are also exhibits of costumes and contemporary art.
The Queen's bedroom is home to the famed Mewar period artworks. The palace is also packed with works of art, many of which are on glass. The palace's wide hallways, large windows, and big apartments add to its allure. Jewelry boxes, hukkas, pan boxes, and other furnishings from the Rajput era may still be present here. For anyone interested in Rajput architecture, this is the place to go.
#7 Jagdish Temple
Jagdish Temple is a beautifully built large Hindu temple in Rajasthan's Udaipur. It lies near the City Palace's Badi Pol gateway and needs a few steps to reach. The temple worships Lord Vishnu. And Maharana Jagat Singh (Maharana of Udaipur) was responsible for the construction of this Indo-Aryan Temple in the mid-17th century.
This temple features magnificent sculptures and four smaller shrines devoted to various deities, making it one of Northern India's most prominent Vishnu temples. The dark stone idol of Lord Vishnu, as well as the brass Garuda figure confronting it, will stun you. Here, the sunset Aarti will be a magical experience ;).
#8 Gulab Bagh
If you want to see some of Udaipur's most renowned sights, Gulab Bagh and Zoo is the place to go since it has a large number of roses and other types of flowers. Gulab Bagh and Zoo, which spans a hundred acres, is a must-see for flora and wildlife enthusiasts.
You may also find a great range of birds and fauna, including lions, deer, and tigers, etc. You have the option of walking around the zoo or taking a trip on the toy train. Additionally, this garden has a library with a large collection of antique handwritten scripts and books, as well.
#9 Vintage Car Museum
If you're visiting the City of Lakes for the first time, the Historic & Classic Car Collection, a museum of vintage automobiles, is a must-see. The museum, which is in the former Mewar State Motor Garage, features luxury vintage wheels.
Luxury vintage wheels such as a 1934 Rolls-Royce Phantom II that was later converted into a pick-up truck for royal hunts, as well as another 1934 Rolls-Royce that was converted to transport the entire Mewar royal cricket team. Cadillacs, Mercedes-Benzes, Buicks, a Ford Model A, and a variety of other vehicles may also be there. The Royal Shell Petrol Pump, which still works, is a highlight of the museum.
#10 Ahar Museum
Ahar Museum is one of Udaipur's most renowned tourist sites, which lies near the beautiful cenotaphs of the Maharajas of Mewar. This archaeological museum was built to preserve things discovered during the state government's excavation of ancient artifacts. The museum has a wonderful collection of antiquities from the tenth century.
These collections contain iron artifacts, clay pots, and other artifacts from the prehistoric era. Even while the collection isn't large, it is certainly distinctive and interesting. The visitor's attention is drawn to a metal statue of Lord Buddha from the 10th century, as well as an image of the Sun God. There is a collection of sculptures, the most impressive of which is a figure of Vishnu-Nag-Nathan. But that's not all. The museum also houses some of the outstanding relics from Udaipur's past, making it a must-see.
#11 Fateh Sagar Lake
Fateh Sagar Lake, the city's second-largest lake, lies on Lake Pichola's northern shore, just across from Moti Magri Mahal. Maharana Jai Singh constructed the lake in 1678 and named it after Maharana Fateh Singh. This body of water is 11.5 meters deep and 2.4 km long and wide. Lake three tiny islands and boats can easily get to them.
Nehru Park is a restaurant in the form of a boat located on a huge island in the lake. This island is a locals' favorite picnic spot since it includes a tiny zoo. The state government looks after the second island in the lake, which is a lovely park with many water jet fountains.
Lastly, Udaipur Solar Observatory is in charge of the third island. It is widely notable as Asia's finest solar observatory. Fateh Sagar Lake is considered to be one of the best places to visit in Udaipur. This is a serene place with beautiful hills encircling this glittery lake on all three sides.
#12 Maharana Pratap Memorial
Maharana Pratap Memorial which settles atop Moti Magri or Pearl Hill offers breathtaking views of Lake Fateh Sagar. Maharana Pratap Memorial, or Pratap Smarak, is a historically significant location. Built-in the 18th century, it is one of Maharana Bhagwat Singh's biggest memorials to Maharana Pratap.
Maharana Pratap is regarded as one of India's finest warriors, known for his courage and valor. From 1572 until 1597, Pratap reigned over Udaipur for about 27 years. The Battle of Haldighati was one of the most spectacular fights waged by Pratap Singh of the Sisodia Rajput dynasty.
A life-sized bronze monument of Maharana Pratap seated on his trusty horse, Chetak, is one of the most exciting attractions of the Memorial. From miles away, the sculpture is visible. And on the grounds of the Memorial, there is a large museum with a large collection of artworks.
#13 Bharatiya Lok Kala Museum
Bharatiya Lok Kala Museum features folk clothing, jewelry, puppets, masks, dolls, musical instruments, and paintings, etc. The modest museum's exhibits also serve as a basis for the preservation and promotion of local folk arts. Every day, a 15-minute puppet performance is put on for the audience. Basically, this place other than being connected with the art also lets you enjoy and appreciate the culture (so it will not be boring going there ;P).
#14 Saheliyon-ki-Bari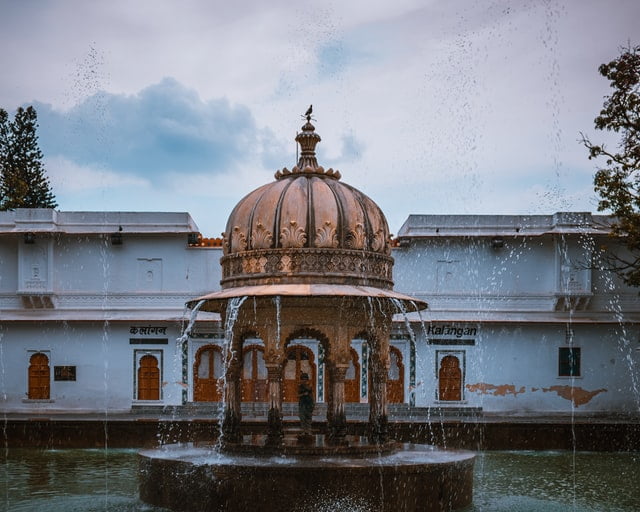 Saheliyon ki Bari or Garden of Maidens lies just underneath Fateh Sagar Lake. In the early 18th century, Maharana Sangram Singh II built this garden as a pleasure garden and a summer residence for the prince's dowry's 48 young maids. According to beliefs, the emperor of Delhi gave the garden as a gift as a sign of goodwill.
One of the garden's four black marble cenotaphs and the garden's single white marble cenotaph surround a reservoir. These cenotaphs' terraces feature water fountains in the form of birds, with tiny sprays of water gushing from their beaks. Actually, the atmosphere of the garden is calm and can transfer you into a tranquil world.
#15 Shilpgram
Shilpgram is an annual crafts fair that takes place in the city of Udaipur's west side. Its goal is to promote Rajasthani art, craft, textiles, and handicrafts. Some of the popular patterns are bandhej, tie-dye, mirror work, and embroideries. Other attractions of the show include camel leather products and hand-woven clothing.
The gala generally takes place in November or December and lasts for ten days. This expo encourages local designers, potters, and other visual artists. Furthermore, there are several workshops available for people interested in studying Rajasthani art and craft.
#16 Sajjangarh Palace or Monsoon Palace
Sajjangarh Palace or Monsoon Palace settles on a mountaintop with spectacular views of Fateh Sagar Lake and the Sajjangarh Wildlife Sanctuary. This castle-like structure is straight out of a fairy tale and is a superb illustration of Rajput lords' grandeur. Factually, the palace was built just to enjoy watching monsoon clouds gather in the sky promisingly!
The Sajjangarh Palace, built by Maharana Sajjan Singh in 1884, should be on your list of sites to see in Udaipur, mostly for the breathtaking panoramic views of the city and its gorgeous lakes, mountains, and castles. This magnificent palace is a must-see, particularly in the nights when lights are on.
#17 Sajjangarh Wildlife Sanctuary
Sajjangarh Wildlife Sanctuary, which surrounds the Sajjangarh or Monsoon Palace, is a popular tourist attraction for those looking to see the finest of Udaipur. You may spot some uncommon wild creatures like Sambars, wild boars, chitals, hyenas, jackals, panthers, hares, and blue bulls. And the Bansadra hill, which is in the backdrop of the sanctuary, will restore your heart.
Tiger Lake, also known as Bari Lake or Jiyan Lake, is an important part of the sanctuary's environment. Panthers, hyenas, and jackals are among the creatures that live there. The Jhar water hole is located in the western section of Bansadra Hill, where there is also a Shiva temple. Machla Magra has a fish-like hill near the sanctuary from where you can see the sanctuary's collection of wild animals.
#18 Bahubali Hills
A visit to the magnificent Bahubali Hill Viewpoint at Badi Lake should be on everyone's Udaipur bucket list. The lake, which was created to aid villagers during a severe famine in the 17th century, is today one of Rajasthan's most picturesque sites.
It's one of the best places to visit in Udaipur because of the magnificent surroundings around the lake. And journey gets more beautiful if you trek up to the spectacular Bahubali Hill Viewpoint. It's a calm respite from Udaipur's hectic streets, and despite its distance of 12 km from the city center, it's definitely worth the trip.
#19 Ekling Ji Temple
Eklingji is well-known for its complex of 108 temples and lies 20 km from Udaipur. It is also known as Kailashpuri, or Lord Shiva's dwelling since it is on the bank of a tiny Bagela lake surrounded by hills. The temple displays beautiful architecture and is among the top places to visit in Udaipur.
It was erected in 728 A.D. on the side of a 72-roomed Jain temple with a four-faced image of Adinath ji, the first Jain saint, by Bappa Rawal. The main temple is composed of white marble. And the four-faced figure of Mahadev (an icon of Lord Shiva) is venerated as Eklingji and is made of black marble. All these
#20 Jaishmand Lake 
Jaisamand Lake or Dhebar Lake is India's second-largest man-made lake. And it was built in 1685 AD during Maharana Jai Singh's rule. The lake is roughly 48 km from the city center of Udaipur. The lake was created to facilitate the construction of a marble dam over the Gomti River.
Jaisamand Lake is a remarkable man-made marvel that encompasses all aspects of natural beauty. Starting with the mountainous environs, the two palaces, Hawa Mahal and Ruthi Rani Ka Mahal, as well as the Jaisamand Wildlife Sanctuary and the Jaisamand Island Resort, all provide an amazing and magnificent experience. I think Jaisamand Lake has the potential to open a new chapter in Udaipur's history.
Phew! Finally, we are done with all (or most) of the top places to visit in Udaipur. I don't think any Rajasthani has missed this place as it is one of the best places in Rajasthan. And if you ask me, I think Udaipur is famous because of many things. Like forts and palaces, lakes and ponds, gardens and hotels, vibrant markets and handicrafts. In the end, wishing you a happy and memorable journey 😀
Read FAQs