If ever beauty has blossomed in a desert, it has been in the camel city of Bikaner. Set on a rocky golden desert, Bikaner has a rich history inseminated with countless tales of defiance, passion, and allegiance. The exotic camel safaris, gorgeous forts, notable folk performances, camel races, old Havelis, colorful bazaars, and attractive tourist places in Bikaner make it an exciting place to witness.
About Rajasthan's Bikaner
Hordes of people passing, with ringing bells on camel's necks, women carrying earthen pots, colorful turbans will enchant you to stick to this palace. The whole compass gives a view as if we have come to an ancient era. Bikaner is famous for rangin dupattas, Kundan work, carpets, lacquer bangles, nokha quilts, and fabrics with Sanganeri prints. It is a well-known place for its local crafts.
Named after its founder, the Rathore prince; Rao Bikaji. Bikaner came into existence in 1488. There's a belief, Rao Jodhaji (Bikaji's father) challenged him to establish a kingdom for himself. And he chose the wildlands called Jangaldesh. He converted it into the city of Bikaner. A 7 km wall with five entrances was built to protect the city.
Over time, it became an important trade center between Gujarat seaports and West Asian countries. Before India's independence, Bikaji and his several descendants were ruling Bikaner. Today Bikaner is famous for its excellent breed of world-famous racing camels. As well as, famous for its annual event of camel festival.
How to reach Bikaner?
By Air: Bikaner doesn't have its official airport. The nearest airport is Jodhpur airport (245 km).
By Train: The rail track of Bikaner is connected to Churu, Jodhpur, and Pink City (Jaipur), etc. In fact, trains from most of the states halt in Bikaner.
By Road: The Bikaner Bus Station is centrally located behind Lalgarh Palace. You can easily reach Bikaner through bus, bike, car, etc.
Best time to visit Bikaner
Summer (April-June): I will say straight NO for this time. The air temperature might go up to 46-50 degrees Celsius. Loo (Hot air) and dust storms are common. Obviously, you must ignore this period.
Monsoon (July-November): Rain showers in Bikaner are rare, but you must expect humidity. To get the best out of Bikaner, look forward to winters.
Winter (December-March): The best time to visit Bikaner is between October-March. The winters are best to plan your trip to Bikaner. Indeed, you will love the weather.
Top 10 Tourist places in Bikaner
The most famous and best places in Bikaner are Junagarh Fort, Lalgarh Palace, Karni Mata Temple, Camel Breeding Farm, Ganga Golden Jubilee Museum, Gajner Wildlife Sanctuary, Karni Bhavan, Devi Kund, Kolayat, and Shiv Bari Temple.
#1 Junagarh Fort
Built-in 1593 by Raja Rai Singh, this imposing and enchanting massive monument has never been conquered by its enemies. It consists of many beautiful palaces, temples, and Havelis. It is an amalgam of mirror work, lacquer work, and paintings.
#2 Lalgarh Palace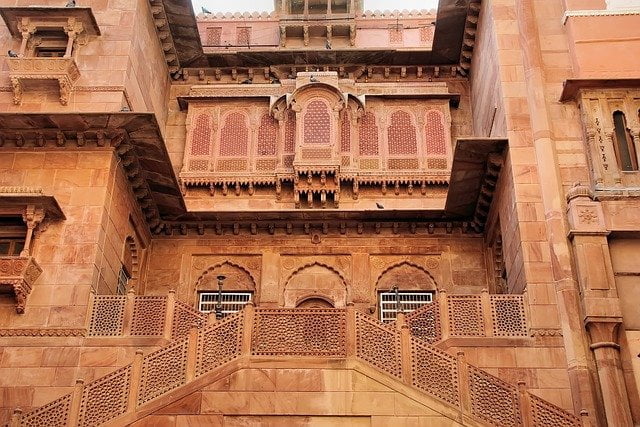 An architectural monument carved out of red stone with delicate latticework. A profusion of European and Rajputana architecture. The palace houses several grand halls, lounges, and pavilions. Presently, it has been turned into a luxury 5-star heritage hotel.
#3 Karni Mata Temple
Undoubtedly, one of the strangest temples of Bikaner. Decorated beautifully with marble work. It is a creation of Maharaja Ganga Singh in the Mughal style. It is called 'Rat Temple'. Because thousands of rats that come to this temple are said to be holy. And a person is considered lucky if they spots a white rat.
#4 Camel Breeding Farm
Camel Breeding Farm is the largest and most exclusive farm in India. In fact, this farm produces the world's fastest riding camels. Basically, the objective of the farm is to make a camel an advantageous overture for camel rearers.
The Bikaner government organizes the Bikaner Camel Festival. And is celebrated in January.
#5 Ganga Golden Jubilee Museum
This museum captures your mind and soul and takes you back in time. And is famous for its collection of ancient potteries. It is a small museum located in Bikaner. Also exhibits a collection of beautiful carpets, paintings, coins, hunting trophies, and gilded leaf paintings on camel rides.
#6 Gajner Wildlife Sanctuary
The lake and forested hills of this reserve are 32 km from Bikaner on the Jaisalmer road. There are wildfowl, several deer, and antelopes. And Imperial sand grouse migrate here in winter. Furthermore, one can see wild boar, blackbucks, the majestic sand grouse, and chinkara in the sanctuary. This place of scenic beauty has hillocks encompassing it and housing a lovely lake. On the banks of this lake is a hotel which was an old summer palace earlier.
#7 Karni Bhavan
It was named after Dr. Karni Singh – the then maharaja of Bikaner. And is home to the erstwhile Jagirdars of Sodawas, Bhati Rajputs of the Lunar dynasty. Dr. Karni Singh came from a family of hunters. Though his interest was more in the clay-pigeon shooting. And he gained his expertise in this field. Eventually, he represented his country in the Olympic games.
Now, a part of Karni Bhawan is a hotel. Only six rooms are used to accommodate the overflow of tourists. And it offers all the modern comforts.
#8 Devi Kund
Devi Kund is at a distance of 8 km from the main city. And is among the most popular tourist places in Bikaner. All thanks to its wonderful architecture. There are many royal crematoriums with chhatris (cenotaphs). Each one of them dedicates to the memory of the rulers of the Bikaji dynasty.
#9 Kolayat
Kolayat is a historical center of pilgrimage. The temple devotes to Kapila. Actually, there's a belief that Vedic sage, Kapila shed his body under a Peepal tree. There are several marble temples, sandstone pavilions, and 52 ghats (bathing places) near a large artificial lake (Kolayat Lake).
Additionally, an annual fair happens between October – November. Thousands of devotees gather to take a dip in Kapil Sarovar during this month's full moon.
#10 Shiv Bari Temple
Shiv Bari Temple is of red sandstone. And the temple devotes to Lord Shiva. Inside the temple is a four-faced black marble statue of Lord Shiva. This temple displays Rajasthani architecture beautifully. And those unique architectural features impart an excellent look to the temple. As a result, leave a mesmerizing effect on the spectator.
I think you need no other information than the Top 10 tourist places in Bikaner to get the best out of your visit to Bikaner. And hey! Don't miss the Bikaner Camel Festival and shopping in the local market.
Read FAQs