I want a decent hotel but don't want to pay a lot! We all say this to ourselves when looking for a hotel. We don't even want a cheap hotel; instead, we hunt for anything within our budget that fits our style and preferences. I discovered Hotel Rajpath Inn in Mehsana to be just such an establishment, making luxury inexpensive. This hotel, in my opinion, is the best hotel in Mehsana, not because it is lovely and inviting, but because it is reasonably priced. We travelers/business people come across these sorts of hotels infrequently.
Hotel Rajpath Inn Highlights
Enjoy the finest luxury at the least possible!

With its cozy rooms and lovely atmosphere, you'll instantly feel at home.

Want to plan a gathering? You are in their hands; reserve a banquet!

Don't want to go out for meals? The cuisine at their restaurant is fantastic!

Love being outside and people-watching? They have a lovely view from their terrace.

Use the glass windows to get a birds-eye perspective at all times. (Tip: To get the best views, choose rooms on the third and fourth floors)

At your service, sir! They are ready to help you immediately if you call them.
About Hotel Rajpath Inn
The Hotel Rajpath Inn stands out among the city chaos and people running here and there for different things. It will give you the luxury you need after a long day of traveling or being busy and stressed. We all want peace and quiet in a hotel, and this one gives us just that. The building has three floors and 200 rooms, all of which have different amenities, offers, and advantages.
The rooms at Hotel Rajpath Inn are comfortable, luxurious, and peaceful. All the rooms have been designed and kept up by professionals, and they always make you feel welcome. The best thing about this place to stay is that it has a front desk and room service that are open 24 hours a day. Call them, and they'll be at your door as soon as possible.
Even though it's hard to get close to nature because it's so close to other important city spots, the view from the glass windows, balcony, or terrace is always beautiful at night. In fact, you may watch people going to work for hours without getting bored.
Check-In Time: 11:00 AM
Check-Out Time: 10:00 AM
Amenities @Hotel Rajpath Inn, Mehsana
Free Wi-Fi

32-inch LED TV

Satellite Channels

24 HR Room Service

Air Conditioner

24 HR Hot Water

Laundry and Dry cleaning service

Elevator/Lift

Terrace

Driver Accommodation
About Meals
Hotel Rajpath Inn has its restaurant. You may order food in your room or dine out at the restaurant. The restaurant has all the necessary resources like a wash basin, washroom, dining table, etc. I loved their food, and the prices were reasonable when I stayed.
You are also allowed to bring your food (no restrictions). Meals may also be bought at a few nearby restaurants, which provide a variety of cuisines from throughout the country. The property manager will help with prospective options and, if required, arrange for meals to be served in the dining area or the room.
How to Reach Hotel Rajpath Inn?
Location: Hotel Rajpath Inn, Raj complex, opposite Nagalpur bus stand,  Mehsana, Gujarat 384002
The nearest airport is Sardar Vallabhbhai Patel International in Ahemdabad (70 km).
The nearest Mehsana Railway Station is 3 Km.
The nearest bus port, Mehsana Bus Port, is 2 km (appx)
Famous places to visit in Mehsana and Modhera Sun Temple (22 km) are at short distances.
Room Packages Available
Every room in Hotel Rajpath Inn feels at home, although some are nicer, bigger, and more elegant than others. There are now two types of rooms available at the hotel: Deluxe and Super Deluxe. This 3-star hotel with a restaurant and banquet hall provides basic facilities in all of its room types. It all comes down to whether you like more space, a balcony, or a couch to create your own personal place.
#1 Deluxe Room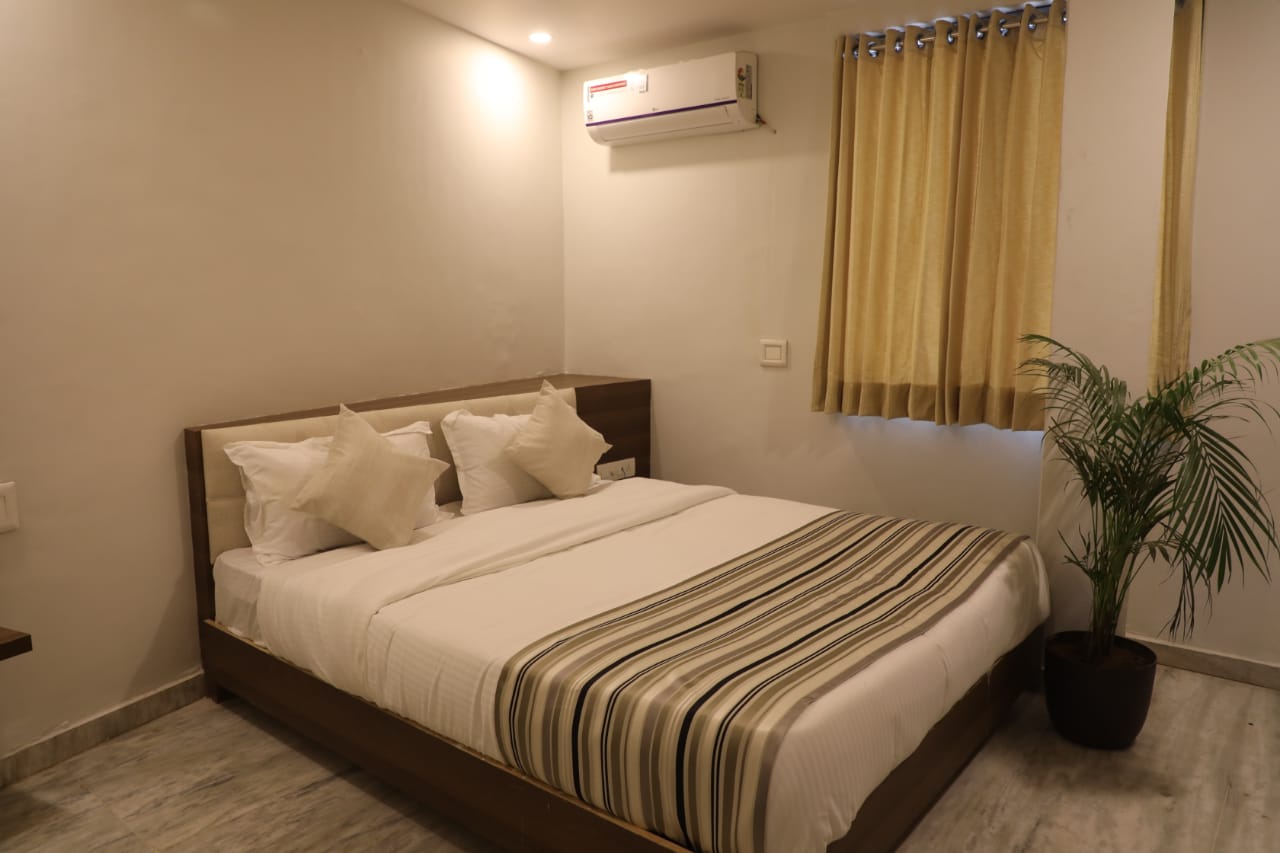 The beautiful deluxe room is based on the property's second, third, and fourth floors, featuring a cozy double bed and an attached bathroom. The room offers a beautiful city view for you to witness nature and the city around you. Enjoy amenities like an air conditioner, 24 hr room service, TV, Wi-Fi, geyser, etc. The room is designed with a wooden table, a wooden wardrobe, and glass windows that offer mesmerizing views of the surrounding scenery. Besides, get direct access to the terrace, where you may relax.
Additionally, the hotel staff will decorate rooms on demand (with additional charges). Decoration can be for any celebration, including birthday parties, honeymoons, and more.
Room Amenities:
Free Wi-Fi | 32-inch LED TV | Satellite Channels | 24 HR Room Service | Air Conditioner | 24 HR Hot Water
#2 Super Deluxe Room
The Super Deluxe room is one of the most beautiful in the hotel, with the greatest views. You may enjoy the beautiful views directly from the room's big windows. And also from your balcony with a superb sit-out setting, where a romantic candlelight dinner can also be planned (with additional charges). The common terrace is also accessible by elevator/lift and provides 360-degree views of the city.
This room also has uniquely built architecture, a rustic king-sized bed, a touch of modernism, and all the facilities necessary to make your stay unforgettable. Also, the hotel staff will decorate rooms on demand (for an extra fee). Decoration can be for any occasion, such as a birthday party, honeymoon, and others.
Room Amenities:
Free Wi-Fi | 32-inch LED TV | Satellite Channels | 24 HR Room Service | Air Conditioner | 24 HR Hot Water | Sofa | Doctor on Call | Tea/Coffee Maker | Room with Balcony | Hair Dryer
More Details about Hotel Rajpath Inn
Customers must follow the state government stated guidelines. It is necessary to maintain social distance.

We suggest the use of hand sanitizer and a face mask.

Each visitor must provide identification at the time of booking and upon arrival.

PAN cards will not be accepted as legitimate proof of residence.

All international nationals are required to provide passport and visa information before check-in.

Actual costs will be payable for any breakage or damage to the property.

You must carry a valid identification document at all times throughout your stay.

Please abide by the specified Check-In and Check-Out times.
Hotel Rajpath Inn Policies
The hotel has no strict foundations since it believes in giving you with the comfort you deserve and making you feel at home. However, nothing works when there are no laws and regulations in place. There are a few policies at the hotel such as booking, payment, cancellation, and other vital things that you must know before booking at the hotel.
Booking Policy
1. Via Travelling Or Traveling
Travelling Or Traveling will connect with the hotel and book hotel room(s) for you after checking the necessary documents and other details.

After confirmation, you will receive a mail for the same along with the necessary details of the hotel, location, and whatever information is needed.
2. Online/On-call Booking
Hotel room(s) can be booked online or on call before the date of check-in. Customers must connect directly with the hotel reception or authorized person for booking.
Contact details –
Contact number: +91 7392083997
Email: Hotelrajpathinn@gmail.com
3. Offline Booking 
Customers may book a hotel room(s) offline by reaching the Hotel Rajpath Inn reception at any time (24 hr).

Customers may book in advance before the check-in date.

Customers may also book at the time of check-in*
*Only if room(s) are available.
Payment Terms Policy 
At least 50% of the fee must be paid 0 days before the booking date (if booked online/on call).

Customer must pay 50% of the total fee 0 days before the date of booking (if booked offline)*
*Terms can be changed after communicating with the hotel.
Cancellation Policy
If cancellations are made six or more days before the date of stay, there are no cancellation charges.

The hotel will charge 15% of the total cost of the reservation for cancellations made between 0 and 5 days before the date of arrival.
Extra Bed Policy
Bed to extra kids: A minimum of INR 300 is payable for each extra mattress given to kids*
Bed to extra adults: Adults may demand extra mattresses for a fee of at least INR 300 per mattress*
*Charges may vary at the time of booking/check-in. Please confirm before booking and payment from the hotel reception.
No Alcohol Policy
Due to State Government regulations, the hotel will not sell any alcoholic drinks.

Drinking alcohol is not allowed outdoors and indoors legally.

Selling and purchasing of alcohol in Gujarat state are illegal.
Pet Policy
Pets are not allowed on the premises of the hotel.

The hotel will not allow the entry of service animals as well.

If somehow the hotel permits the pet's entry, then the pet should not be allowed in the hall or without a leash.
Read FAQs