I am sure every Indian must have heard the name "Kargil" before. Kargil is famous for the Kargil War between India and Pakistan in the year 1999. When it's about our own country and especially about Pakistan we people remember everything :P. Let me tell you, it is not only about war, in fact, but there are also beautiful and inviting places in Kargil.
About Ladakh's Kargil 
Kargil is at 2704 mt above water level. It is Ladakh's second-largest urban center. And the administrative center for the district of the same name. The settlement nestles along the lower Suru basin's rising mountainside. The Drass and Wakha are two tributaries of the Suru river that converge here.
The area accessible in the narrow valley as well as the rising slopes is extensively farmed in tidy terraces to raise barley, wheat, peas, other vegetables, and other cereals. Kargil is well-known for its high-quality apricots.
Kargil serves as an essential base for adventure trips being in the heart of the Himalayas. It is also the departure point for tourists to the erotic Zanskar valley. Tourists traveling between Srinagar and Leh spend the night here before continuing on their journey.
How To Reach Kargil?
By Air: Kargil city doesn't have its own airport. And the nearest airport is Srinagar (202 km) airport. There is an airport in Leh (217 km) too.
By Train: The nearest railhead is in Jammu which is Jammu Tawi. This railhead is approximately 490 km from Kargil. There's no rail network in Ladakh currently.
By Road: The Kargil district is easily accessible by road. You can either go from Srinagar or from Leh to Kargil. The best way would be to have your vehicle. Otherwise, the government and private buses also halt in Kargil.
Best Time To Visit Kargil
Summer (April-June): The best time to visit Kargil is during summer. The air temperature will be between 4-33 degrees celsius. And you will love Kargil city at this time.
Monsoon (July-September): Kargil district receives heavy rainfall. Cloudbursts and landslides are common during this time. I must say avoid the monsoon for your safety.
Winter (October-February): World's second coldest inhabited place is in Kargil so expect snow and snow everywhere. The average temperature is -10 to – 15 degrees Celsius during winter. One must avoid traveling in winter.
Top 11 Places In Kargil
The Kargil district is famous for its wonderful Landscapes, Buddhist Monasteries, and Adventurous activities.
The Top 11 Places In Kargil mentioned in travellingortraveling blog are Mulbekh Monastery and Chamba Statue,  Shergol, Urgyan Dzong, Drang-Drung Glacier, Drass, Sani, Phugthal Monastery, Suru Valley, Rangdum, Wakha Rgyal, and Sankoo.
#1 Mulbekh Monastery
Mulberkh is among the most famous places in Kargil. It has a Monastery that comprises two gompas, Drukpa and Gelugpa Buddhist monasteries, as well as a rock-carved Chamba Statue.
Mulbek Monastery perches on a cliff and it dominates the valley. It's simple to understand why this location was formerly an outpost to defend the caravan route. Just like other Buddhist monasteries, paintings and statues decorate it.
And Mulbekh Chamba's main feature is a 9-meter-high rock sculpture in deep relief of Maitreya, the Future Buddha. It clearly reveals the early Buddhist art and culture.
#2 Shergol
Shergol is another lovely place in Wakha River valley. And is located across the river, directly across from the Kargil-Leh road. The primary attraction is a cave monastery visible from a distance as a white speck against the steeply rising ochre slope from which it appears to hang out.
A bigger Buddhist nunnery with around a dozen residents is located underneath this tiny monastery. The village is reached by a motorable road that forks off the Kargil-Leh route approximately 5 kilometers short of Mulbek.
#3 Urgyan Dzong

This meditation retreat is nestled in an incredible natural mountain fortress high in the Zanskar range. A round tableland with a tiny monastery settlement at its center lies hidden within. Several caves on the adjacent mountainside indicate high-ranking Buddhist saints who meditated in isolation.
At least one of these caves was visited by Padmasambhava, the patron saint of Tibetan Buddhism. The principal approach is through a pathway cut through the solitary break in the stone walls.
#4 Drang-Drung Glacier
The largest glacier after the Siachen Glacier in Ladakh. Drang-Drung Glacier is near the Pensi La mountain pass on the Kargil – Zanskar Road. It is 22 km long and is right next to the road. There are just a few glaciers in the world that can be reached by road, and this is one of them. The glacier is an incredible place to explore for all adventure seekers.
#5 Drass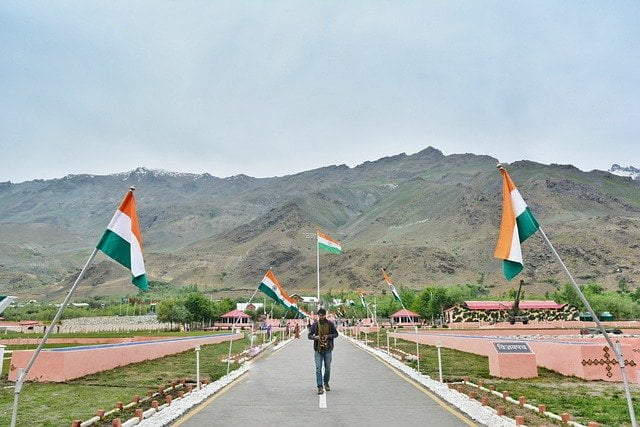 Drass or Dras, at 3230 meters, is a tiny township in the Kargil district's Drass valley. Due to the severe cold and regular snowfall throughout the winter, it is notable as the world's second-coldest location. Temperatures in the winter have been known to fall below 40 degrees.
Another place to visit in Kargil is the Drass war memorial or Kargil War Memorial. It was built by the Indian Army to commemorate the Kargil War between India and Pakistan in 1999. The memorial is on the Srinagar-Leh National Highway.
#6 Sani
This charming village is located 6 kilometers west of Padum on the route to Kargil. The main attraction here is the castle-like monastery, which, unlike other monasteries in the area, is built on a flat surface. An old cemetery adjoins this monastic complex. A ring of ancient rock sculptures encircle it and indicates Indian creative influence.
Furthermore, this place is also linked to Naropa, the great Indian yogi from Vikramsila who is believed to have meditated for a while beneath the Kanika stupa. Once a year, in late July, a shrouded bronze image of the yogi is revealed. This event is marked by a two-day celebration in which monks from the Bardan Monastery perform masked dances as ceremonial gifts.
#7 Phugtal Monastery
It is Ladakh's most magnificent monastery institution. The Phugtal complex erupts from the entrance of a massive cave high up on the sheer mountain face of a lateral gorge. Probably, it is Zanskar's most remote monastery, with a foundation dating back to the early 12th century; at least one ancient chapel includes frescoes and ceiling decorations indicating considerable Indian creative and iconographic influence.
Phugtal is accessible via the Padum-Manali hiking path through a 7-kilometer-long trail that separates from the principal trail close to the Purney bridge. And is one of the must-see places in Kargil.
#8 Suru Valley
One of Ladakh's most picturesque areas is the heart of the Kargil district. It is a sight to see, with towering mountain walls crowned by snow-capped peaks, undulating alpine slopes emptying into wild mountain streams with roaring cascades of clean water, and magnificent glaciers flowing along the Himalayan slopes to the river bed in riverine formation.
The stark contrast offered by the towering peaks of Kun (7035 mt) and Nun (7135 mt), which loom over the skyline in their crystalline grandeur, adds to the splendor of this region.
#9 Rangdum
The furthest and most remote section of the Suru Valley. It is an oval extended plateau bordered on one side by colorful hills and the other by glacier-encrusted rocky mountains. It is located 130 kilometers southeast of Kargil, almost halfway between Kargil and Padum. The area's untamed beauty is almost due to its remoteness from populated sections of Suru or Zanskar, while its isolation is near perfect even as the unpaved Zanskar road traverses its length.
The main attraction of this region is a magnificent 18th-century Buddhist monastery that is home to about 40 monks. Rangdum monastery, perched picturesquely on a centrally rising hilltop surrounded by the forked course of a wild mountain stream, has the aura of an ancient fortification guarding a mystical mountain valley.
#10 Wakha Rgyal
Rgyal hides inside the beautiful Wakha Valley's upper part. It appears to be a group of cave houses from the Middle Ages that have been brought into the present day with some improvements and extensions.
The whitewashed and densely packed homes are excavated into the steep face of a vertical cliff that rises far above the verdant valley bottom. From a distance, the settlement resembles a swarm of beehives perched on the Cliffside's orange granite.
#11 Sankoo
Sankoo Valley is Ladakh's version of Gulmarg ("meadow of flowers"). Colorful rocky mountains border this municipality. The bowl-shaped valley is filled with dense plantations of poplars, willows, Myrciaria, and wild roses, giving it the feel of a man-made forest nestled within the mountain ramparts.
It is also a renowned pilgrimage site for the ancient shrines of Muslin scholar-saint Sayed Mir Hashim. He was specifically invited from Kashmir to impart religious teaching. As the region's Buddhist monarch, Thi-Namgyal of the Suru principality was converting to Islam in the 16th century.
Many people ask me whether it was worth visiting Kargil and I reply with the same answer "It was amazing". I am an adventurous person and it was fun exploring the Top 11 Places In Kargil. This place offers many adventures and breathtaking landscapes.
Traveling to Ladakh? Check out the Best Ladakh Visiting Places for more information!
Read FAQs